Campgrounds, glamping sites, recreational vehicles and anything else that offered fresh air, physical distance and a decreased chance of cancellation due to Covid-19 regulations saw significant boosts in bookings in 2020.
Internally, companies offering those products believed it would be hard to keep up the rapid growth into 2021, but the sector's upward trend has continued, and more amenity-rich camping products are coming to market to meet demand. 
"In 2020, as people switched to domestic and drive-to travel, it was great for us," said RVShare CEO Jon Gray. "We wondered how we would top that growth, and we have. We've continued to see business accelerate and have had strong growth this year on the back of what was dynamic growth in 2020."
A recent survey conducted by Wakefield Research for RVShare found 45% of travelers included RVs in their top three types of accommodations, a 13% increase from 2020. It also found that, when planning a 2022 vacation, half of travelers are considering outdoor activities.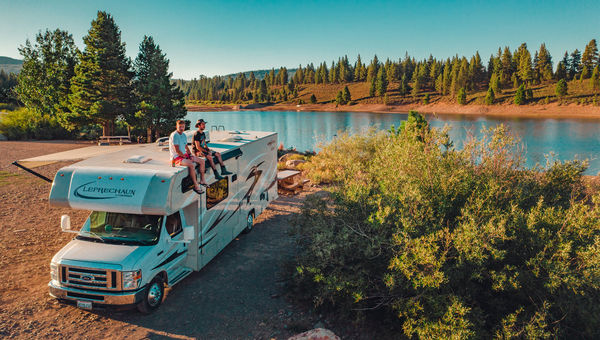 Almost half (45%) of travelers in a recent survey conducted for RVShare included recreational vehicles in their top three types of accommodations. Photo Credit: Courtesy of RVshare
Toby O'Rourke, CEO of the KOA network of private campgrounds, said the company has seen an "explosion" in bookings that continues to defy their expectations.
"We expected a slowdown as children returned to school and adults returned to offices in the fall but were surprised by continued growth," O'Rourke said, adding that post-Labor Day business is up 17% year over year.
HipCamp, an online marketplace for outdoor stays and camping experiences that includes a range of campgrounds, cabins, yurts and other alternative accommodations, currently has twice as many future bookings as it did at the same time in 2020.
"We are now in the position where we need to create the supply as the bookings come in. We are reaching out to more land owners and working to create more partnerships with campgrounds to meet the interest," said HipCamp founder and CEO Alyssa Ravasio. "This is a continuation of a really big, long-term paradigm shift. I think you're seeing consumers move away, hopefully, from wanting to consume so many items and move toward having meaningful, unique, memorable experiences. And the outdoor travel industry is positioned beautifully as that continues."
Outdoor travel companies say enhanced camping, or "glamping," either with additional amenities or souped-up sites with unique lodging or characteristics, is especially popular.
"We've seen so much interest in tree houses, we could add a millon treehouses and they would all be booked out all the time. I'm sure of it," Ravasio said.
The companies see the outdoor travel boom tapping into multiple trends. The growth of work-from-home and "workcations" means more flexibility among travelers but also, with longer stays, a desire to keep costs manageable. O'Rourke reported that KOA is seeing an increasing number of guests working from their campgrounds, and she now tells franchisees that WiFi has become a utility rather than an amenity.
Additionally, families are turning to campgrounds to get together again following pandemic shutdowns.
"There are lots of family reunions happening at campgrounds," O'Rourke said. "People are looking for unique experiences, and I think that has driven the rise of unique accommodations. At KOA, we have cabins, we're seeing treehouses, we're seeing yurts and a variety of glamping accommodations coming into campgrounds. That's largely driven by this family market looking for unique experiences." 
Outdoor travel companies like HipCamp have seen a surge of interest in uncommon accommodations, such as treehouses and yurts. Photo Credit: Courtesy of HipCamp
Companies both firmly rooted in the outdoor travel space and more traditional hotel companies are investing in the expanding market.
This year, AutoCamp opened its first East Coast location: a Cape Cod site with an 8,100-square-foot Clubhouse featuring a lounge with an indoor fireplace, a general store and restrooms with showers. There are now three of the company's amenity-laden sites where guests stay in custom Airstreams, glamping tents and cabins nationwide, with three more expected to open in the next year. 
Margaritaville launched its own RV and luxury campgrounds in 2019. Now, following the success of the first two Camp Margaritaville RV Resorts in Lake Lanier, Ga., and Pigeon Forge, Tenn., the company plans to introduce between 30 and 50 campgrounds in the next five years, with five locations slated to open in 2022. The resorts accommodate recreation vehicles in addition to offering glamping sites and cabins, and they feature amenities like dog parks, playgrounds, dining outlets and live entertainment. 
As the outdoor travel market continues to expand, the companies are increasingly convinced the growth is durable. 
"We're expecting another big year in 2022," Gray said. "During the pandemic people went domestic and drive-to tourism, and what they found is they had a better time than they expected. We saw airfares come back, we saw hotels come back, and we did not see any material slowdown in the outdoor travel business. In fact, we saw it accelerate."