Doctors and nurses share a Christmas Eve meal together in the COVID-19 intensive care unit at la Timone hospital in Marseille, southern France, Friday. (Daniel Cole, Associated Press)
Estimated read time: 3-4 minutes
SALT LAKE CITY — Here are 10 stories you may have missed over the weekend. As always, click on the headline to read the full story.
1. Surging COVID cases, 'jingle jabs' make for somber Christmas
Christians around the world celebrated their second COVID-19 Christmas on Saturday with surging infections in many countries overwhelming hospitals, canceling flights and curbing religious observances, even as coronavirus vaccines were more available than ever.
2. UHP: Man struck, killed by semi while trying to secure debris from camper
A man died Sunday morning after a semitruck hit him while he was trying to secure some debris that flew off his camping trailer. The incident occurred in the southbound lane of I-15, just before the I-80 East exit.
3. Police: Man arrested after stealing, crashing Salt Lake officer's patrol car
A man was arrested by Salt Lake City police Friday night after allegedly stealing a patrol car and then crashing. The man was booked into the Salt Lake County Jail for investigation of theft of services, drunkenness, theft of a vehicle, assault by a prisoner, criminal mischief, interfering with an arresting officer, disorderly conduct and not having a valid drivers license, according to a news release from the Salt Lake City Police Department.
4. Utah incident responder's quick thinking saves 5-year-old girl found choking
A 5-year-old girl is OK this holiday season thanks to quick thinking by a Utah transportation employee and state trooper who helped save her after a woman alerted them that the child was choking in her car.
5. Man crashes stolen car, attempts to carjack another, Salt Lake police say
A man already facing felony charges in two cases — who also had a warrant out for his arrest — was arrested by Salt Lake City police Friday after allegedly crashing a stolen car and then attempting to carjack another person.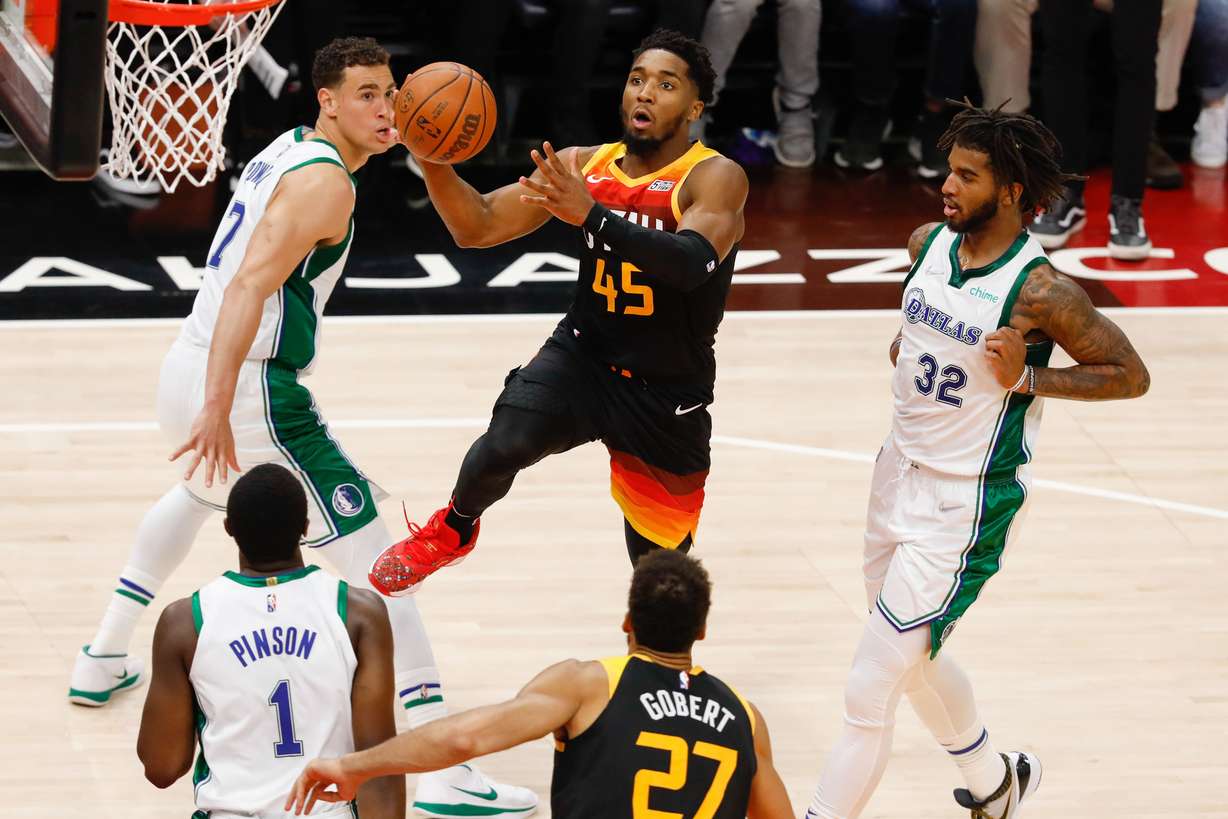 Sports
1. Donovan Mitchell to miss at least next 2 games with lower back strain
Mitchell will not travel with the Jazz on their upcoming road trip in order stay in Salt Lake City and receive treatment.
2. Fouss Navidad: Career night from 'hungry' Traore helps BYU bounce back with win over Liberty
Traore poured in a career-high 19 points and 13 rebounds, and Trevin Knell added a season-high 15 points as BYU held off Liberty 80-75 in the third-place game of the Diamond Head Classic at the Stan Sheriff Center in Honolulu, Hawaii.
3. Utah State coach Blake Anderson awarded 2-year contract extension
Following one of the most successful football seasons in Utah State history, the university has awarded first-year head coach Blake Anderson a two-year contract extension.
4. Refs, COVID make for a strange Christmas game as Jazz beat Dallas
As the clock hit zero, Mitchell threw the ball high in the air in a show of emotion to celebrate the Jazz's 120-116 win over the Mavericks Saturday at Vivint Arena.
5. Accidental All-timer: How Tyler Allgeier went from BYU walk-on to record-setting tailback
So was BYU's 31-28 loss to UAB in the Independence Bowl the final college game in Allgeier's storied career?
"We'll see what happens," Allgeier said after rushing for 192 yards and three touchdowns. "I'm going to keep you guys guessing, but we'll see what happens."
×
More stories you may be interested in