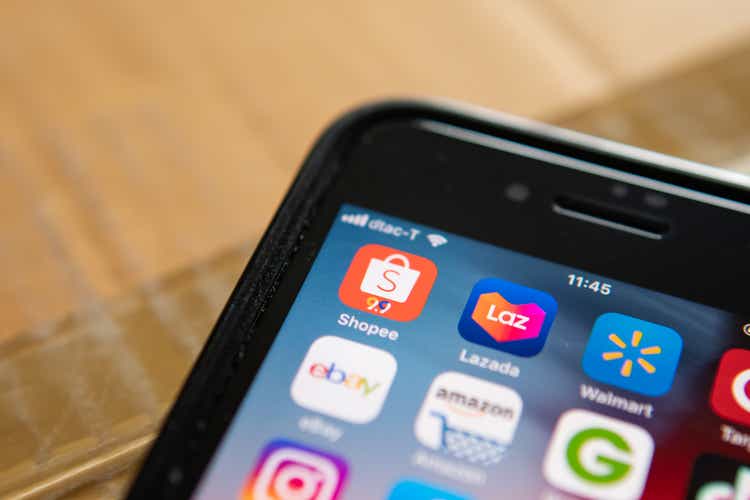 Elevator Pitch
I have a Hold investment rating assigned to Sea Limited's (SE) shares. My sum-of-the-parts valuation implies an +11% upside from current price levels for SE, and it is not possible to justify a Buy rating based on my price target. Sea Limited will be a Hold for me, unless it can either drive a substantial improvement in profitability for its e-commerce business or prove that its gaming business' growth is sustainable even if its flagship game Free Fire eventually peaks.
SE Stock Key Metrics
In the company's press releases, Sea Limited describes itself as a "global consumer internet company" which runs "three core businesses across digital entertainment, e-commerce, as well as digital payments and financial services, known as Garena, Shopee and SeaMoney, respectively."
SE's share price dropped by -13% from $145.60 as of February 28, 2022 to $126.50 as of March 1, 2022, after the company issued its Q4 2021 financial results press release on March 1 prior to trading hours. The company's shares fell by an additional -31% over the next two weeks to close at $87.78 as of March 14, 2022. In other words, Sea Limited saw its stock price drop by a cumulative -40% since it reported its recent fourth-quarter financial performance.
Sea Limited's shares performed badly despite the fact that its Q4 2021 headline revenue and net loss per share came in ahead of market expectations. As such, it is necessary to assess the company's key metrics by business segment to understand why investors were dissatisfied with the company's Q4 2021 results.
The company's e-commerce business did reasonably well in the recent quarter. As per its Q4 2021 results presentation slides, SE's gross orders and GMV (Gross Merchandise Value) expanded by +18% QoQ and +8% QoQ to 2.0 billion and $18.2 billion, respectively. Sea Limited's EBITDA losses widened from -$428 million in Q4 2020 to -$878 million in Q4 2021 mainly due to investments made in relation to new foreign market penetration. But the e-commerce segment's performance in its core markets were good as highlighted below.
More importantly, Sea Limited's e-commerce business is expanding well in Brazil and its relatively more mature e-commerce operations in Taiwan and Southeast Asia are witnessing narrower losses, as disclosed in its Q4 2021 results infographic. Shopee Brazil saw its gross orders jump by almost +400% YoY in Q4 2021, while its EBITDA loss per order (excluding overheads) narrowed by -40% YoY to under -$2 in the recent quarter.
The EBITDA loss per order (excluding overheads) for Sea Limited's e-commerce business in the Southeast Asia and Taiwan region also experienced a significant improvement from -$0.21 in Q4 2020 to -$0.15 in Q4 2021. At the company's Q4 2021 results briefing, SE attributed the improvement in profitability for its Southeast Asia and Taiwan e-commerce sub-segment to a combination of "higher take rates and also cost efficiency as we scale."
On the flip side, its digital entertainment or gaming business' performance in Q4 2021 was disappointing.
Garena's quarterly active users and quarterly paid users contracted by -10% QoQ and -17% QoQ to 654.0 million and 77.2 million, respectively in the most recent quarter. It is noteworthy that this marks the first time since 2018 that SE's digital entertainment or gaming business saw a QoQ decline in these two key metrics.
Sea Limited attributed the below-expectations operating metrics for Garena to "moderation in online activities" with the easing of Work-From-Home trends as the COVID-19 pandemic eases, and the unavailability of its flagship game Free Fire in India "due to unanticipated government actions" as mentioned in its fourth-quarter results press release. But there are also concerns that Free Fire had already reached its peak. In its Q4 2021 results infographic, SE highlighted that Free Fire has been the "most downloaded mobile game globally" for "three consecutive years." Free Fire was introduced to the market at the end of 2017, and it is inevitable that the growth of Free Fire will moderate over time.
SE's digital financial services business segment, SeaMoney, delivered a decent performance in the fourth quarter of last year. SeaMoney's quarterly active users jumped by +90% YoY from 24.1 million as of December 31, 2020 to 45.8 million as of end-2021, while its mobile wallet total payment volume increased by +70% YoY to $5.0 billion in the recent quarter. But the digital financial services segment is still a relatively small part of Sea Limited's business now, as it contributed under 5% of the company's fiscal 2021 revenue.
In summary, SE's headline financial metrics such as revenue and net loss per share in Q4 2021 did beat market expectations. But the widening of losses for Sea Limited's e-commerce business segment as a whole and the slowdown in the company's digital entertainment or gaming business segment had led to a major correction in its share price over the past two weeks.
Is Sea Limited Stock A Fair Valuation?
I arrive at a target price of $97.30 for Sea Limited based on a sum-of-the-parts valuation, which implies a modest +11% upside to its last traded price of $87.78 as of March 14, 2022.
My sum-of-the-parts valuations assumes that the company will generate revenue of $9 billion and $1.2 billion for its e-commerce and digital financial services businesses, respectively in 2022 as per the mid-point of the company's guidance disclosed in its Q4 2021 results release. I also estimate that SE will deliver an EBITDA of $2 billion this year for its digital entertainment business segment, which is close to the segment's FY 2020 EBITDA of $1,982 million. Sea Limited expects bookings for the digital entertainment segment to be in the $2.9-$3.1 billion range for 2022, and the higher end of this guidance is roughly on par with the gaming business' FY 2020 bookings of $3.2 billion.
I value SE's digital entertainment business at 8 times forward fiscal 2022 EV/EBITDA, while the e-commerce and digital financial services segments are assigned forward FY 2022 Enterprise Value-to-Revenue multiples of 3 times and 5 times, respectively. I also add Sea Limited's net cash of $5,672 million as of December 31, 2021 to my sum-of-the-parts valuation for the stock.
Although the multiples I have used as part of sum-of-the-parts valuation appear to be low, they are reflective of the valuation de-rating for the technology sector in general. As an example, analysts from JPMorgan (JPM) have cut their price target for Chinese e-commerce giant Alibaba (BABA) from $180 to $65 by applying a mere 7 times forward P/E multiple to the company's estimated FY 2022 earnings per share as per a recent research report (not publicly available) published on March 14, 2022.
JPM also highlighted in the recent BABA report that "we shift our valuation method (from sum-of-the-parts) to P/E, which investors tend to use to find valuation support." This reflects a shift in investors' valuation approach, where profitable business operations are assigned higher valuations and loss-making businesses don't have much valuation support. In that respect, SE is only expected to be EBITDA positive in 2024, and is currently trading at a rather expensive 53 times forward FY 2024 EV/EBITDA as per S&P Capital IQ data.
In conclusion, I think that Sea Limited's stock is at best fairly valued.
What Is SE Stock's Price Target?
SE stock's consensus sell-side price target is $206.18 which suggests that the upside for the company's shares is as much as +135%. But there is a wide variance in the analysts' target prices for SE Limited. The most bullish analyst thinks that Sea Limited's shares are worth $370.76, but the lowest price target on the Street is $104 which is not that far from my sum-of-the-parts valuation of $97.30.
Also, while all the Wall Street analysts covering Sea Limited have price targets that exceed SE's last traded share price, three of the sell-side analysts have a Hold rating and one analyst views the stock as a Strong Sell. It is possible that some of these relatively more Bearish analysts could possibly issue new reports subsequently and reduce their respective price targets to maintain their Hold and Sell ratings for the stock.
Where Is SE Stock Heading?
SE stock is now largely a "show me" story, where it has to prove to the market that the gaming or digital entertainment business can reduce its dependence on Free Fire, while there is a path to faster-than-expected profitability for its e-commerce segment.
In relation to its gaming segment, Sea Limited stressed at its recent quarterly earnings call that it is putting in significant efforts to "diversify our portfolio" and "prepare us for the long run". This points to a pipeline of new games with a wide variety of genres that should be launched over time. But it is inevitable that new games will take time to ramp up and it is natural to prioritize user growth over monetization in the initial phases of the introduction of new games to market. Also, SE acknowledged at the Q4 2021 results briefing that "it is probably hard to come up immediately with other games that can match the size of Free Fire."
With respect to the e-commerce business, it is encouraging that Sea Limited revealed that its EBITDA loss per order for the e-commerce operations for Southeast Asia and Taiwan have narrowed YoY in Q4 2021, but it is important to note that this does not include overheads as highlighted earlier. With SE still committed to overseas expansion especially in markets like Latin America, it is natural to assume that overheads will remain elevated or even increase. As such, it is unlikely that SE's e-commerce segment or the company as a whole will be able to achieve positive EBITDA earlier than what the market hopes for.
I am of the view that SE stock will head sideways or be range-bound in the near-term, as I think it is hard for Sea Limited to diversify its gaming business or improve the profitability of its overall e-commerce segment any time soon.
Is SE Stock A Buy, Sell, or Hold?
SE stock is a Hold. On the positive side of things, Sea Limited is the market leader in certain segments of the gaming and e-commerce markets. SE boasts one of the most popular mobile games globally (Free Fire) as mentioned above, and it is also "the largest pan-regional e-commerce platform in Southeast Asia and Taiwan" as per its media releases. On the negative side of things, the market is now favoring companies with predictable revenue growth and steady profitability, and other companies which don't boast such characteristics such as Sea Limited will find it challenging to see their valuation multiples expand in the current environment.
Asia Value & Moat Stocks is a research service for value investors seeking Asia-listed stocks with a huge gap between price and intrinsic value, leaning towards deep value balance sheet bargains (i.e. buying assets at a discount e.g. net cash stocks, net-nets, low P/B stocks, sum-of-the-parts discounts) and wide moat stocks (i.e. buying earnings power at a discount in great companies like "Magic Formula" stocks, high-quality businesses, hidden champions and wide moat compounders). Sign up here to get started today!