The new Intel 12th gen CPUs and Z690 motherboards introduced consumers to the new faster DDR5 generation of RAM.
DDR5 is now also being used on the latest 12th gen Intel laptops. Most of the laptops launching with DDR5 are premium priced and already come with DDR5 running at 4800MT/s. However, Kingston is staying ahead of the curve with the launch of their FURY Impact DDR5 SODIMMs.
These SODIMMs come in capacities of:
Singles: 8GB, 16GB, 32GB                                                         
Kit of 2: 16GB, 32GB, 64GB                                                                     
They then run at 4800MT/s with latencies of CL38.
Pricing and availability haven't been released yet but I doubt there is a huge demand for them until more laptops start using DDR5.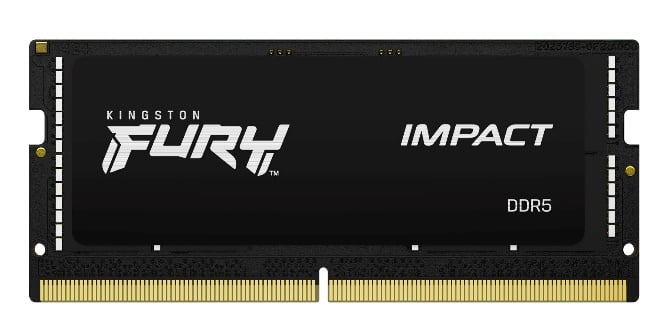 Full Press Release:
Kingston FURY, the gaming division of Kingston Technology Company, Inc., a world leader in memory products and technology solutions, announces the release of Kingston FURY™ Impact DDR5 SODIMMs. Perfect for the gamer or PC enthusiast who want the latest cutting-edge performance from their laptop or small form factor machine.
Kingston FURY Impact DDR5 is fifty percent faster than DDR4 to provide a boost in gaming, rendering, and multitasking, while its low power consumption and increased efficiency keeps your system cool at 1.1V. Available in Intel® XMP 3.0 Certified SODIMM kit capacities up to 64GB, Kingston FURY Impact DDR5 packs all the enhanced features of DDR5 into a slim, compact form factor. With innovative Plug N Play1 overclocking technology and on-die ECC, it automatically supports 4800MT/s2 at lower latencies than standard DDR5-4800. Thus, improving system performance without having to enable a profile and maintains data integrity while hitting extreme speeds.
"We're thrilled to be expanding our line of high-performance DDR5 memory with Kingston FURY Impact DDR5 SODIMMs," said Iwona Zalewska, DRAM business manager, Kingston EMEA. "Gamers and content creators can now experience the power of DDR5 on both desktops and laptops."
Kingston FURY Impact DDR5 is available in single modules up to 32GB and kits of 2 up to 64GB and backed by a limited lifetime warranty and over 30 years of expertise.
Kingston FURY Impact DDR5 Features and Specifications
Mighty DDR5 SODIMM Performance: 50% faster than DDR4 for a boost in gaming, rendering, and multitasking.
Plug N Play Automatic Overclocking Functionality: Kingston FURY Impact DDR5 automatically overclocks to the highest listed speed.
Intel® XMP 3.0 Certified: Maximise memory performance with advanced pre-optimised timings, speed and voltage for overclocking.
Lower Power Consumption, Increased Efficiency: Keep your system cool and efficient with Impact DDR5's low 1.1V power draw.
Improved Stability with On-Die ECC: Maintain data integrity while hitting overclocking speeds.
·        Capacities:
Singles: 8GB, 16GB, 32GB                                                         
Kit of 2: 16GB, 32GB, 64GB                                                                     
Frequencies:  4800MT/s
Latencies:           CL38                                   
Voltage:              1.1V                     
Operating Temperature: 0°C to 85°C
Dimensions:       69.6mm x 30mm