1 min ago
'Take people with you,' pleads official as evacuations from two cities expected to begin
From CNN's Radina Gigova in Atlanta
The evacuation of civilians from the Ukrainian cities of Mariupol and Volnovakha is expected to begin at 11 a.m. local (4 a.m. ET) but "we are currently working on the details," the head of the Ukrainian government Donetsk regional military administration, Pavlo Kirilenko, said on his official Twitter account.
Russian officials said the country would pause its bombardment in the cities from 9 a.m. to 4 p.m. local time (2 a.m. to 9 a.m. ET) Saturday, 
Kirilenko said that "it will be possible to leave by personal transport" during the pause, adding "a huge request to all drivers leaving the city to facilitate the evacuation of civilians."
"Take people with you, fill the transport as much as possible. It is STRICTLY FORBIDDEN to deviate from the route of the humanitarian corridor. There will be several stages of evacuation over several days so that all those wishing to leave can do so," he said. 
"Therefore, I ask everyone to trust only the OFFICIAL information posted on this official page or the information that provides a direct link to it," he said. "This is a matter of human safety! As soon as new information appears, I will notify you immediately."
1 hr 13 min ago
Ukraine says evacuation corridors are "being prepared for opening" in Mariupol and Volnovakha
Evacuation corridors are being prepared in parts of Ukraine, said Mykhailo Podoliak, head of Ukrainian President Volodymyr Zelensky's office, on Saturday.
"In Mariupol and Volnovakha, humanitarian evacuation corridors are being prepared for opening, columns are being formed from those who are subject to evacuation. The parties temporarily ceased fire in the area of ​​the corridors," Podoliak said on his official Twitter account.
Earlier on Saturday, Russia's Ministry of Defense announced it would stop bombarding Mariupol and Volnovakha to allow for civilians to safely flee their homes, adding, "Humanitarian corridors and exit routes have been agreed with the Ukrainian side."
Attacks on civilians: Western officials have noticed a shift in Russian strategy from military targets to civilians, with more attacks becoming focused on population centers.
And Russia is poised to deploy up to 1,000 more mercenaries to Ukraine in the coming days and weeks, as a senior Western intelligence official warned Moscow could "bombard cities into submission," an escalation that could lead to higher numbers of civilian casualties.
1 hr 23 min ago
Zaporizhzhia nuclear power plant staff say radiation levels look normal
From CNN's Radina Gigova in Atlanta
Staff at the Zaporizhzhia nuclear power plant (ZNPP), which was occupied by Russian forces after a fire broke out on Friday, say radiation levels in the region look normal.
"Currently, the ZNPP attending personnel monitor the condition of power units and control their operation," Ukraine's State Nuclear Regulatory Inspectorate said in a statement Saturday. 
"No changes in the radiation status in the Zaporizhzhia region have been detected, the gamma radiation background is within normal limits."
The State Nuclear Regulatory Inspectorate also said the heating and hot water supply in the city of Enerhodar, where the plant is located, have been disrupted "due to a damage to the connecting heating main, which is a result of the fierce fighting between the defenders of ZNPP and the Russian occupiers."
Repairs are underway but "the work is complicated by multiple damage to the heating main," the regulatory body said. 
Fire at the plant: A blaze broke out on Friday after shelling by Russian forces, Ukrainian officials said. Fears rose as firefighters were initially unable to access the site.
The fighting eventually stopped, and emergency teams were able to put out the fire. Though staff at the plant are continuing their duties, the plant has been "occupied" by Russian forces, the regulatory body said Friday after the fire was contained.
1 hr 44 min ago
The cost of supporting Ukraine is rising, as US gas prices surge
From CNN's Zachary B. Wolf
Americans along with much of the Western world have been united in condemning Russia for invading Ukraine.
Now they might have to start putting their money where their mouth is as US lawmakers consider an embargo on Russian oil.
High inflation and rising energy prices amid the economy's pandemic recovery were already making life more expensive.
Now, a little more than a week into Russian President Vladimir Putin's war, California has become the first US state to have an average gas price above $5 per gallon.
Gas prices are surging nationwide. The national average record for gasoline — $4.11, set in 2008 — is within sight. That would be a huge jump from a year ago, when the national average price was $2.75 a gallon.
The average price of diesel is also skyrocketing, which will drive up transportation costs for businesses.
What Congress is doing: American lawmakers are pushing a bipartisan effort to end all imports of Russian oil and sanction Russia's energy sector.
That the energy sector has so far been left mostly untouched speaks to the nature of the global energy supply. Russia was the world's No. 2 oil producer last year, behind the US. A disruption in oil exports would drive up costs everywhere.
But politicians are willing to pay the price. "I'm all for that. Ban it," House Speaker Nancy Pelosi said this week on Capitol Hill.
"I would gladly pay 10 cents more per gallon," Sen. Joe Manchin, the West Virginia Democrat, said at a Thursday press conference.
1 hr 51 min ago
Russian military will stop firing and allow civilians to flee Mariupol and Volnovakha
From CNN's Radina Gigova in Atlanta
Russia's Ministry of Defense announced it would stop its bombardment of parts of Ukraine on Saturday, to allow for civilians to safely flee.
"Today, March 5, from 10 a.m. Moscow time, the Russian side declares a ceasefire regime and opens humanitarian corridors for the exit of civilians from Mariupol and Volnovakha," said the ministry in a statement. "Humanitarian corridors and exit routes have been agreed with the Ukrainian side."
Attacks on civilians: Western officials have noticed a shift in Russian strategy from military targets to civilians, with more attacks becoming focused on population centers. The new approach comes after Russian President Vladimir Putin failed to get the quick victory he wanted, and the Russian military has faced a stiff and determined Ukrainian resistance across the country.
Some additional context: Ukrainian and Russian delegations held a second round of talks in Belarus on Thursday. A Ukrainian negotiator said afterward that it didn't deliver the results that Ukraine needed — both sides had agreed on corridors for civilians to escape.
Putin told German Chancellor Olaf Scholz on Friday that a third round of talks has been scheduled for this weekend.
1 hr 52 min ago
Ukrainian athletes dedicate their Paralympics medals "to Ukraine, for peace"
Ukraine won its first gold medal at the Beijing Paralympic Games on Saturday, with Grygorii Vovchynskyi winning the para biathlon men's sprint standing event — and dedicating his medal afterward to his home country.
"It's very important for us in Ukraine. Today I represented my country. It's a difficult time, I am worried and afraid," he said after the race. "I was thinking before the race, I must try to do everything for Ukraine. I must think about war, about my country, about my people, about my President.'
"I love sport, but today I ran because I want life in Ukraine to move to the future," he said. He added that when the war began, he "cried every day," wondering what he could do.
"I can dedicate this race to Ukraine, for peace, (for the) people in Ukraine. It's first place for my country," he said.
Ukrainian athlete Liudmyla Liashenko also won silver in the women's sprint standing event on Saturday.
"I am really glad that I finished and brought this medal to Ukraine," she said, adding that her family was still in Ukraine.
"I'm trying to defend my country here. I'm trying to show my best results here to represent Ukraine here like our army does in Ukraine, like everyone who is in Ukraine now trying to defend our motherland."
3 hr 8 min ago
Elon Musk declines to block Russian propaganda from Starlink
From CNN's Melissa Alonso
In a tweet Friday night, Elon Musk claimed foreign government officials had asked his satellite internet company Starlink "to block Russian news sources" following the unprovoked invasion of Ukraine.
"We will not do so unless at gunpoint," Musk said in the tweet. "Sorry to be a free speech absolutist."
It's unclear which governments Musk is referring to in the tweet, though he added it was not Ukraine. 
Amplifying propaganda: Russian news sources, such as RT, serve as Russian President Vladimir Putin's global megaphone, misleading audiences and deflecting from the issues at hand. On Friday, Putin signed a censorship bill into law making it impossible for news organizations to accurately report the news in or from Russia.
Delivery to Ukraine: Musk sent a truckload of Starlink antennas — which can be used to connect to the company's satellite-based internet service — to Ukraine this week, responding to a plea from the country's vice prime minister amid fears that Ukrainians could lose internet access if Russia continues its attacks on communication infrastructure.
3 hr 14 min ago
Zelensky refutes allegations he has fled Ukraine, says he is still in Kyiv
From CNN's Radina Gigova in Atlanta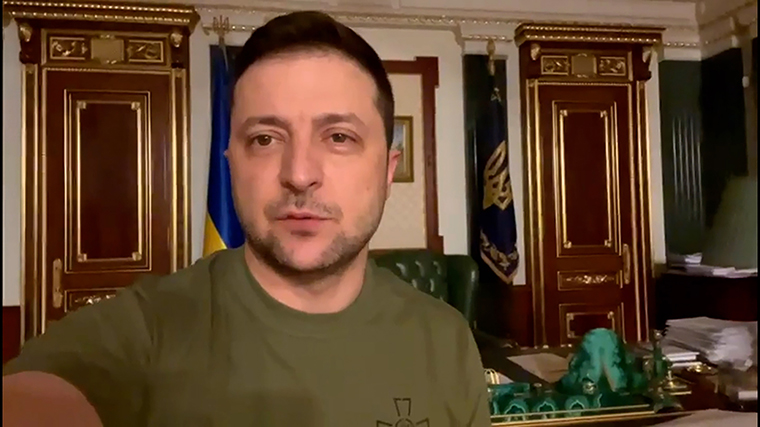 Ukrainian President Volodymyr Zelensky posted a video on his official Instagram account on Friday, saying he is still in the capital Kyiv and has not fled the country. 
"Every two days information comes out that I have fled somewhere — fled from Ukraine, from Kyiv, from my office. As you can see, I am here in my place, Andriy Borisovich (Yermak) is here. Nobody has fled anywhere. Here, we are working," Zelensky said. 
"We like jogging, but now we don't have time for that, for various cardio exercises," he joked. "Working. Glory to Ukraine."
3 hr 35 min ago
Turn down the heat to stop Putin? Europe wrestles with its Russian gas addiction
From CNN's Angela Dewan
When you turn on the heating in your home, you may not think much about where your energy comes from, let alone where the money you pay for it goes. For millions of people living in Europe, there's a good chance that money is flowing to the Russian state — much of it into President Vladimir Putin's war chest.
Russia has been building a network of natural gas pipelines throughout Europe since the 1960s. Washington has been warning its Western allies ever since that more Russian gas will only make Europeans more vulnerable to Moscow.
There are fears now that the Kremlin may turn off the supply of natural gas to the European Union, in retaliation for its support for Ukraine — Europe, among other allies, has been sending weapons and aid to Ukraine to help it defend itself against Russia's invasion.
It's only been just over a week, but so far, Russia has let the gas flow. But that presents another problem.
Money into the war chest: Russia is earning hundreds of millions of dollars a day from its oil and gas exports, undermining the financial sanctions Western powers have introduced to choke off financing for Putin's war effort.
The European Union, Russia's biggest gas customer, is now grappling with the reality that its energy spending has helped empower Putin to carry out a bloody war on its borders.
According to the European think thank Bruegel, with prices at record highs, the value of Russian natural gas exports to the European Union has soared to about €500 million ($545 million) every day. That's up from about €200 million ($220 million) in February. Before the invasion, Russia was also exporting oil worth hundreds of millions a day to Europe.