1 min ago
The "Big Four" consulting firms have pulled back from Russia
From CNN's Michelle Toh
International companies are continuing to disengage with Russia following its ongoing invasion of Ukraine. This includes number of global consulting firms, including the four biggest worldwide, which are Deloitte, Ernst & Young, KPMG and PricewaterhouseCoopers.
Deloitte announced on March 7 that it would stop operating in Russia and Belarus.
The firm said:
While we know this is the right decision, it will have an impact on Deloitte's [approximately] 3,000 professionals located in Russia and Belarus. Like others, we know our colleagues in Russia and Belarus have no voice in the actions of their government."
"We will support all impacted colleagues during this transition and do all we can to assist them during this extremely difficult time."
EY, otherwise known as Ernst & Young, also said it would remove its Russian practice from its official global network, but allow it to "continue working with clients as an independent group of audit and consulting companies."
"EY in Russia is a team of 4,700 professionals working in 9 cities of the country. The company has been operating in the Russian market for more than 30 years," it said.
Consulting and accounting firm KPMG International said that its "Russia and Belarus firms will leave the KPMG network."
"KPMG has over 4,500 people in Russia and Belarus, and ending our working relationship with them, many of whom have been a part of KPMG for many decades, is incredibly difficult," the company said.
"This decision is not about them – it is a consequence of the actions of the Russian Government. We are a purpose-led and values-driven organization that believes in doing the right thing."
PricewaterhouseCoopers (PwC) is also planning to break away from its Russian business.
"As a result of the Russian government's invasion of Ukraine we have decided that, under the circumstances, PwC should not have a member firm in Russia and consequently PwC Russia will leave the network," the "Big Four" consultancy said in a statement.
"Our main focus at PwC continues to be doing all we can to help our Ukrainian colleagues and support the humanitarian efforts," it added.
"We are also committed to working with our colleagues at PwC Russia to undertake an orderly transition for the business, and with a focus on the wellbeing of our 3,700 colleagues in PwC Russia."
Another big firm, Accenture, is also discontinuing its business in Russia as it "stands with the people of Ukraine," it said.
The firm announced the move last week in a statement, where it thanked its "nearly 2,300 colleagues in Russia for their dedication and service to Accenture over the years."
"We will be providing support to our Russian colleagues," the company added.
48 min ago
It's now a criminal offense for Russian aircraft to fly into British airspace
From CNN's Amy Cassidy
The United Kingdom has made it a criminal offense for Russian aircraft to enter British airspace as part of further sanctions against Moscow for its invasion of Ukraine, Transport Secretary Grant Shapps announced via Twitter on Tuesday.
When Russia's invasion began on February 24, Britain initially banned any aircraft "owned, chartered or operated by a person connected with Russia, or which is registered in Russia."
This latest move places the matter in the hands of the police rather than aviation authorities.
"We'll be able to be more specific, for example where we have aircraft which might be connected with Russian oligarchs flying into the country, they should know … we can impound your aircraft and turn this into a criminal offense," Shapps told Sky News on Wednesday.
The new law gives the government additional powers to detain Russian planes already present in the UK, according to an official press release.
New trade sanctions banning the export of aviation and space-related goods and technology to Russia were announced by the Foreign, Commonwealth and Development Office on Wednesday.
These include cancelling insurance policies in the sector and prohibiting UK insurers from paying claims.
1 hr 3 min ago
More than 1.3 million people have fled to Poland from Ukraine
From CNN's Hannah Ritchie
At least 1.33 million people have arrived in Poland from Ukraine since Russia launched its military invasion, Poland's embassy to the European Union tweeted Wednesday, citing figures from the country's border guard agency. 
"Among them 93% are Ukrainian, 1% are Polish and 6% are from 100 other different countries," the post read. 
On Tuesday alone, some 125,800 people crossed into Poland according to the agency. 
1 hr 5 min ago
Ukraine agrees to proposed humanitarian evacuation routes 
From CNN's Tim Lister and Olga Voitovych
The Ukrainian military has agreed to a 12-hour ceasefire with Russia on Wednesday to allow civilians to escape through humanitarian corridors, Ukraine's Deputy Prime Minister Iryna Vereshchuk said.
Vereshchuk added that Prime Minister Denys Shmygal would be talking to the International Committee of the Red Cross Wednesday about the proposed routes for the ceasefire, which runs from 9 a.m. to 9 p.m local time.
"I appeal to the Russian Federation: you have made a formal public commitment," she said.
Vereshchuk said the ceasefire would allow civilians to escape through "green corridors" in the following areas:
Energodar-Zaporizhia
Sumy-Poltava
Mariupol-Zaporizhia
Volnovakha-Pokrovsk
Izium-Lozova
Vorzel, Bucha, Irpin, Borodyanka, Gostomel-Kyiv
Vereshchuk highlighted two routes in particular — the evacuation of civilians from the port city of Mariupol and the eastern town of Volnovakha, both of which have been surrounded by Russian forces for several days.
"The residents of Volnovakha turn to me and ask me to get the promise of the Russian Federation today fulfilled, people have to be able to leave the places where they are now hiding from the hail of GRADs [rockets] and the devastating fire that is killing them," she said.
Vereshchuk said there would also be a special operation to evacuate an orphanage near Kyiv, in the suburb of Vorzel. She said there were 55 children and 26 staff members there.
1 hr 37 min ago
Russian forces almost destroyed this Ukrainian artist's work. Now it's becoming a global symbol of peace
From CNN's Oscar Holland
Not only is Maria Prymachenko among the 20th century's great self-taught artists, she is an icon of Ukrainian national identity.
Her fantastical paintings, praised during her lifetime by the likes of Pablo Picasso, are now found in some of the country's most important museums. Her work has also been featured on postage stamps and her likeness is immortalized on commemorative coins.
But 25 years after her death, the Russian invasion is threatening Prymachenko's legacy.
Last week, Ukraine's Foreign Ministry said that several of the artist's paintings were among those destroyed at a museum in her native region of Ivankiv, about 50 miles northwest of the capital, Kyiv, following an attack by Russian forces.
Her brightly-colored, almost childlike depictions of flora and fauna — as well as of farmers tending crops and plowing fields — were among the items initially thought to have been lost.
But reports have since emerged suggesting that an act of bravery may have saved more than a dozen of her works from the blaze.
Read the full story: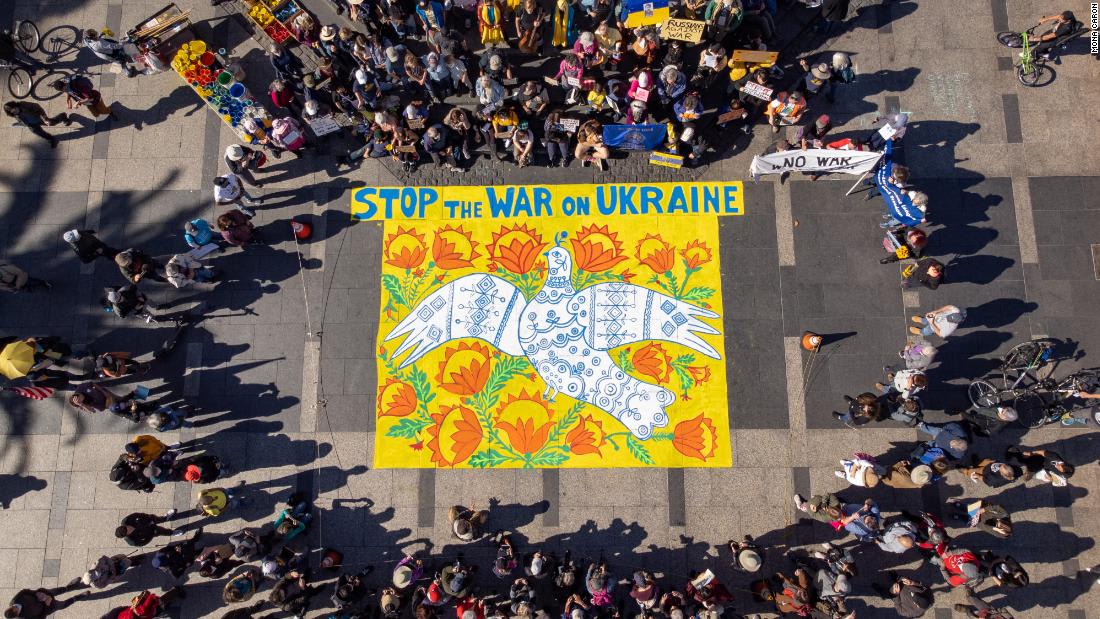 1 hr 40 min ago
Dutch brewer stops sale and production of its Heineken beer in Russia
Heineken has become the latest major brand to halt operations in Russia.
The Dutch brewer said it is stopping the sale, production and advertising of its Heineken brand beer in the country.
It will also take immediate steps to ringfence its Russian operations from its wider business and said it will no longer "accept any net financial benefit derived from our Russian operations". Heineken had already announced plans to stop all new investment and exports to Russia. 
In a statement Wednesday, Heineken said it is "assessing strategic options for the future of our Russian operations. We see a clear distinction between the actions of the government and our employees in Russia. For more than 20 years, our local employees have been valued members of our Heineken business. Supporting our employees and their families is a clear principle as we define the path forward."
Heineken said it will also step up support and donations for NGOs operating in Poland, Hungary, Romania and Slovakia.
Some context: It comes as McDonald's and Starbucks said they are shutting their restaurants and cafes in Russia, and Coca-Cola is suspending its operations there in response to Russia's invasion of Ukraine. PepsiCo is also pulling some products from the country. 
1 hr 56 min ago
New York Times withdraws all correspondents from Russia for first time in more than a century 
From CNN's Hannah Ritchie
The New York Times (NYT) has pulled all its correspondents out of Russia, marking the first time in over a century that the paper will have no reporters on the ground there. 
"Very sad day for the history of @nytimes in Moscow. Pulling all its correspondents out of the country. We have had reporters there continuously since 1921, with one or two short interruptions due to visa hiccoughs. Not Stalin, not the Cold War, nothing drove us out," Neil MacFarquhar, a former NYT Moscow bureau chief tweeted.
The paper announced its formal withdrawal from Russia in a statement Tuesday, citing new legislation which seeks to criminalize journalists reporting on Moscow's invasion in Ukraine by outlawing any references to "war."
"Russia's new legislation seeks to criminalize independent, accurate news reporting about the war against Ukraine. For the safety and security of our editorial staff working in the region, we are moving them out of the country for now," said New York Times spokeswoman Danielle Rhoades Ha.
 Read more on the difficult decisions news outlets are making in Russia: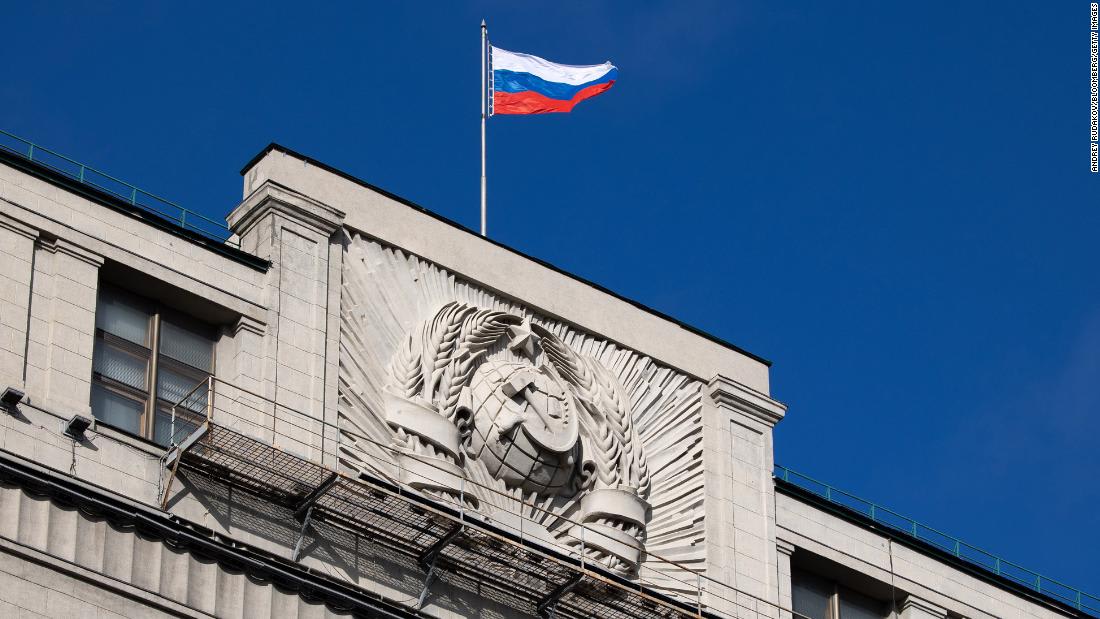 2 hr 51 min ago
UK Defense Ministry: Ukraine's air defenses enjoying "considerable success" against Russian aircraft
From CNN's Josh Campbell and Hannah Ritchie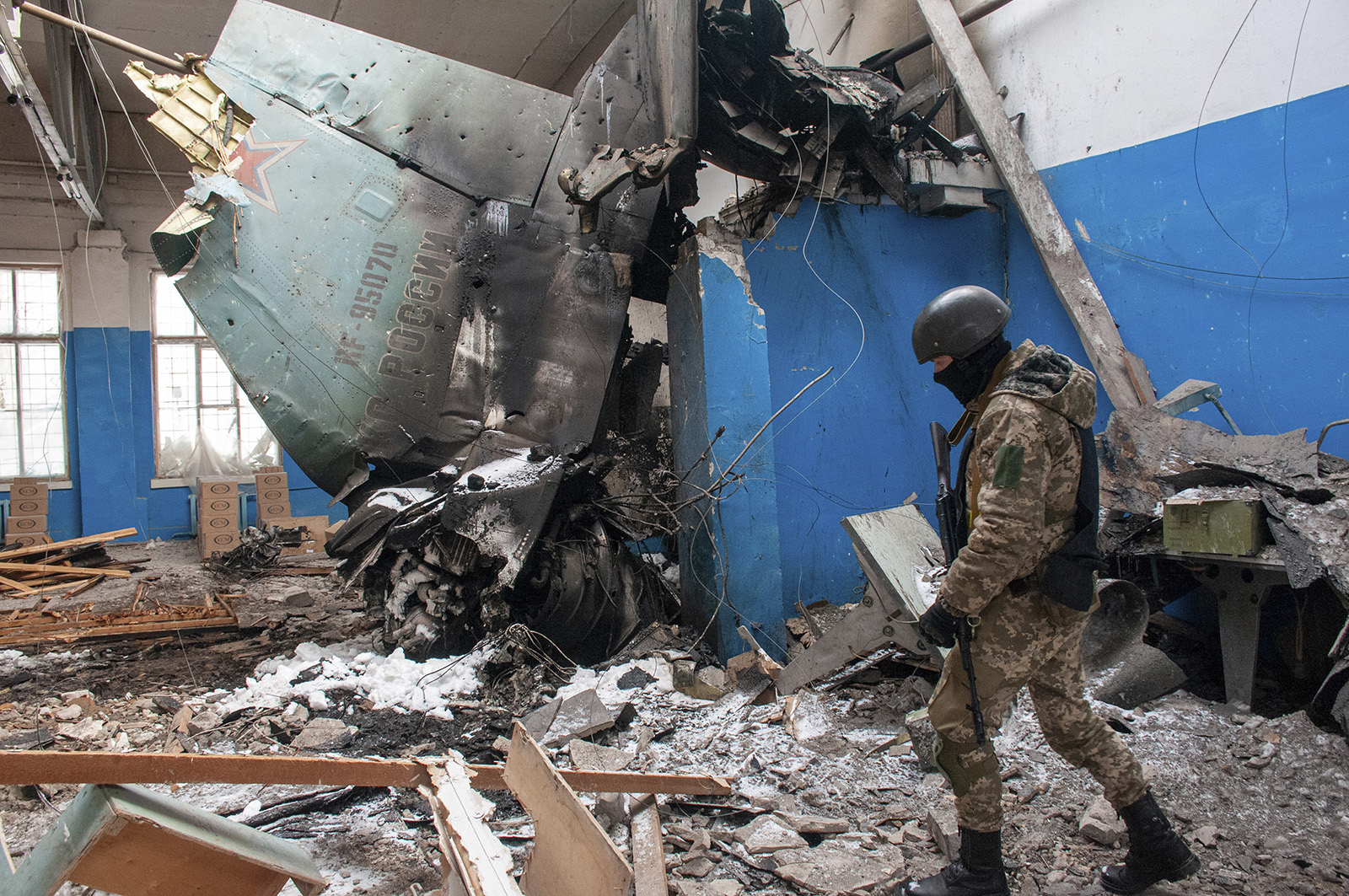 Ukraine's air defenses have "enjoyed considerable success against Russia's modern combat aircraft," Britain's Ministry of Defense tweeted Wednesday. 
In its latest intelligence update on Russia's invasion, the ministry said Ukraine has "probably" prevented Russia from "achieving any degree of control of the air."
"Fighting north-west of Kyiv remains ongoing with Russian forces failing to make any significant breakthroughs," the statement added. 
In a separate update posted Wednesday, the ministry warned the Ukrainian cities of Kharkiv, Chernihiv, Sumy and Mariupol remain "encircled by Russian forces and continue to suffer heavy Russian shelling."
4 hr 13 min ago
Evacuation corridor out of Sumy will remain open Wednesday, regional governor says
From CNN's Hannah Ritchie and Teele Rebane
An evacuation corridor from the city of Sumy, northeastern Ukraine will stay in operation Wednesday, regional governor Dmytro Zhyvytskyy said in a social media post.
"Friends! The negotiation team worked all night, and they extended the humanitarian corridor operation from Sumy to Poltava today," Zhyvytskyy said early Wednesday, adding the corridor will be open from 9 a.m. until 9 p.m. local time.
People will be able to travel in their personal vehicles, he said. Also, 22 buses used during Tuesday's evacuation will be returned to the city from the central city of Poltava to help the evacuations from about 2 p.m. local time, he said.
"They are the same buses we had yesterday for the first transport column. They will be used to transport pregnant women, women with children, elderly, and people with disabilities," he added. 
The corridor enabled some 5,000 civilians to evacuate the city on Tuesday, according to deputy head of the Ukrainian presidential office Kirill Timoshenko.
Some context: Sumy has been subjected to heavy attacks by Russian forces in the past few days, with most of its population cut off from the rest of Ukraine. An overnight airstrike in the city on Monday killed at least 21 civilians.