1 min ago
Canada imposes new sanctions on Belarusian leaders for their support of Ukraine invasion
From CNN's Rebekah Riess
Canada is imposing new sanctions on Belarusian leadership in response to the country's involvement in the Russian invasion of Ukraine, according to Canadian Minister of Foreign Affairs Mélanie Joly.
These new measures impose restrictions on 22 senior officials of Belarus's Department of Defense who supported the attack on Ukraine by allowing Belarus to serve as a "launch pad" for the Russian invasion, a release from Global Affairs Canada said.
"The world is horrified to witness the senseless violence occurring in Ukraine. Just as Canada is imposing severe sanctions on the Russian regime, Belarusian leadership must also be held accountable for enabling and supporting Vladimir Putin's unprovoked attacks," Joy said. "Canada implores (Belarusian President) Alexander Lukashenko to end his support for the Russian invasion. We will not hesitate to take further action. The world is watching."
According to the release, Canada has sanctioned more than 500 individuals and entities from Russia, Ukraine and Belarus since Russia's invasion of Ukraine on Feb. 24.
Russian troops were stationed in Belarus — which borders Ukraine to the north — prior to the attack on Ukraine, which the two countries had claimed were for exercises. Using Belarus' border has been strategically advantageous to Russia because its border with Ukraine is much closer to Kyiv than Russia's, providing a shorter pathway for Russian troops to reach the Ukrainian capital.
13 min ago
Britain will deploy air defense system to Poland
From CNN's Lindsay Isaac
Britain will deploy its Sky Sabre air defense system to Poland, along with 100 troops to operate it, the UK Ministry of Defence said Thursday. 
The Polish government had requested the anti-air warfare system, the UK defense ministry said on Twitter.
"Sky Sabre has unprecedented speed, accuracy, performance and target acquisition, which will significantly enhance Poland's air defences," it added. 
British Defence Secretary Ben Wallace said the deployment is to help Poland "stand tall against Russian threats" as it carries "much of the burden of this war." It will help Poland protect its airspace from "any further aggression from Russia," he added.
According to the UK ministry, the addition of the Sky Sabre to its arsenal in December 2021 marked a "massive leap forward in the UK's armed forces' capability to defend itself from fast attack jet fighters, missiles and even air dropped bombs." 
5 min ago
Recent drone incidents has amplified concerns Russia's war in Ukraine could spill over into NATO countries
From CNN's Jeremy Herb, Natasha Bertrand and Barbara Starr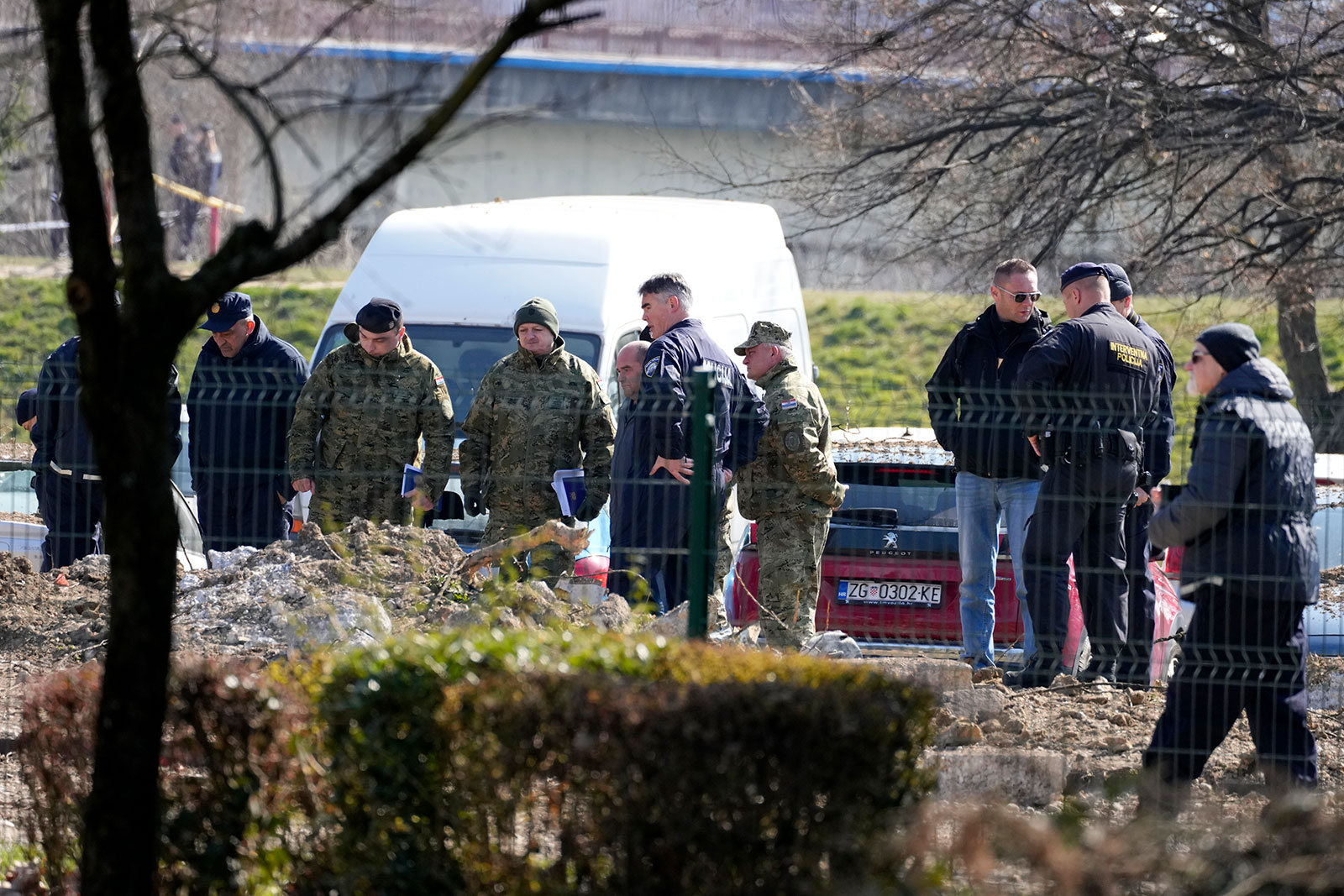 Last week, a drone flew more than 350 miles beyond Ukraine's western border before crashing in Croatia, a NATO member country. The drone was carrying a bomb, Croatian officials said, and it's still not clear whether it belonged to Ukrainian or Russian forces.
Another drone recently entered the airspace of Romania, south of Ukraine. And on Tuesday, Ukraine's military said it shot down a Russian drone that had reentered Ukraine through Polish airspace.
The trio of drone incidents has amplified concerns that Russia's war in Ukraine could spill over into NATO countries, even if unintentionally, forcing the alliance to decide how to respond — if it all — to incidents that occur inside its borders.
US defense officials say the errant drones that entered NATO territory appeared to be largely inadvertent. Since the start of Russia's invasion, the US military has established a deconfliction line with Russia to reduce the risk of miscalculation and make sure the two militaries operating so close together don't inadvertently clash. The US has tested the line "once or twice a day," according to a senior defense official, but so far, it hasn't been needed.
But NATO has tried unsuccessfully to connect with Russia via a deconfliction hotline and written letters, raising concerns about Russia's willingness to engage as the invasion of Ukraine has spread further west toward NATO territory, senior NATO military officials said on Wednesday.
"We are trying to communicate with them of course," one of the officials told reporters in a briefing at NATO headquarters. "But it requires two [sides] to communicate."
Russia brought the fight closer to NATO's doorstep last weekend with precision-guided missile strikes near Lviv in western Ukraine, targeting a military training facility just 10 miles from Poland's border. Those attacks came one day after Russian officials threatened convoys that are providing weapons to Ukraine from the West, though a senior US defense official said the facility was not being used for security shipments.
Read the full story here.
1 hr 3 min ago
More than 187,000 Ukrainian refugees have arrived in Germany
From CNN's Benjamin Brown in London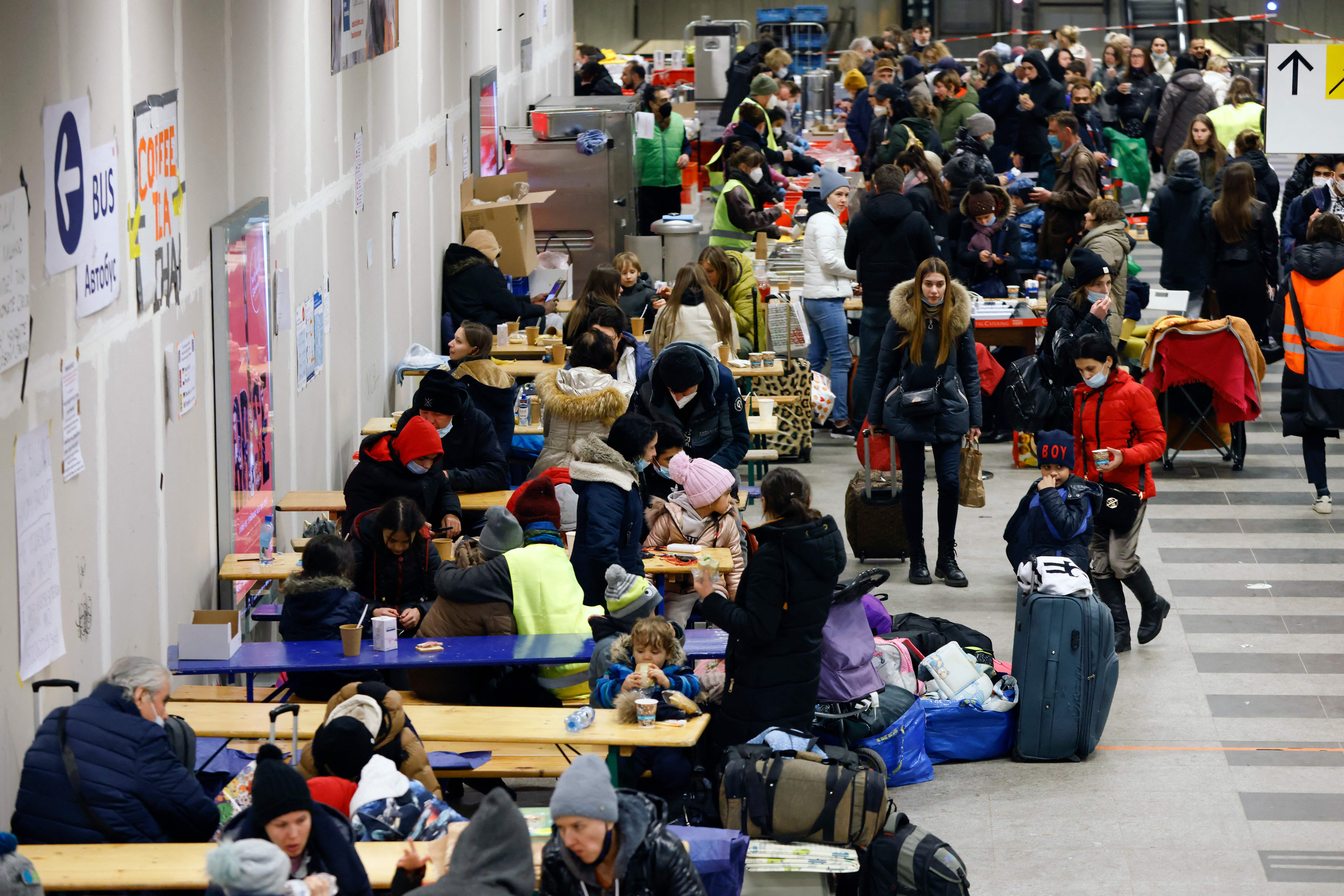 More than 187,000 refugees fleeing the war in Ukraine have arrived in Germany, according to the German Ministry of the Interior.
As of Thursday, 187,428 refugees had been registered by German police, but the actual number of incoming refugees could be significantly higher due to the absence of border checks between Poland and Germany, an interior ministry spokesperson told CNN.
The majority of refugees arriving in Germany are women, children and elderly people, the spokesperson said.
The International Organization for Migration estimated on Monday that more 2.8 million people have fled Ukraine since the invasion began in late February.
1 hr 15 min ago
Survivors emerging from Mariupol theater attack, says Ukraine parliament member, but fatalities still unclear
From CNN's Andrew Carey and Olya Voitovych in Lviv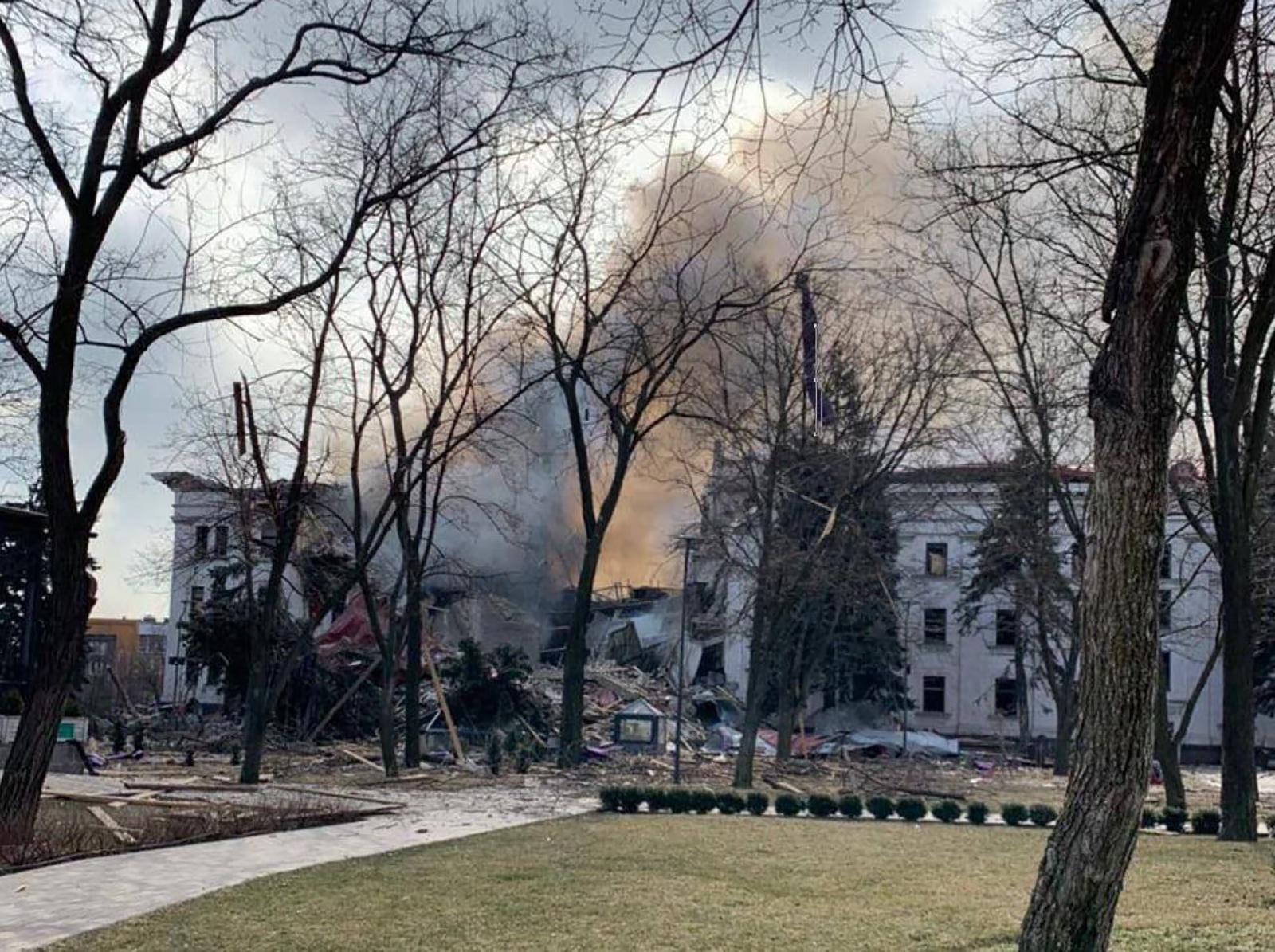 There is still no information about possible fatalities or the condition of survivors after a theater building, which was being used as a shelter, was hit in the besieged city of Mariupol, Ukraine.
As many as 1,200 people are believed to have been sheltering in the theater when it was struck by what Ukrainian officials say was a Russian air strike early Wednesday evening. 
First reports Thursday morning from the former Donetsk regional head, Sergiy Taruta, that people were emerging alive from the rubble of the building have been backed up by Liudmyla Denisova, the Ukrainian parliament's commissioner for human rights.
"In Mariupol, the release of civilians from the rubble of the drama theatre has begun. The building withstood the impact of a high-powered air bomb and protected the lives of people hiding in the bomb shelter. Work is underway to unlock the basement," Denisova said in a statement on Telegram.
Adults and children, she said, were coming out alive but the full extent of what had taken place remained unclear.
"There is currently no information about the dead or wounded under the rubble of the theatre," she said.
Aerial photos of the building before it was hit clearly show the Russian word for "children" painted in huge lettering on the ground on two sides of the building. 
Denisova called the attack "an act of genocide and a terrible crime against humanity as defined by the Rome Statute of the International Criminal Court."
Russia has denied its forces hit the building and instead accused "militants of the nationalist 'Azov' battalion" of blowing up the theater. 
The Azov Battalion is an ultra-nationalist militia that has since been integrated into the Ukrainian armed forces.
1 hr 39 min ago
The war in Ukraine is entering its fourth week. Here's what you need to know today
Residents of the besieged Ukrainian city of Mariupol have described the situation there as "unbearable" and "just hell."
On Thursday, survivors began emerging from the rubble of the theater they were sheltering in after it was bombed by Russian forces yesterday, according the former head of the Donetsk region. The number of casualties is unknown.
Hundreds of civilians were thought to have taken shelter in the building amid the ongoing Russian siege of the coastal city. Meanwhile, hundreds of thousands of people are currently trapped there and as many as 2,500 civilians have died in Mariupol, Ukrainian officials estimate.
Here are the latest developments:
Theater bombing: Ukraine's defense minister Oleksii Reznikov on Thursday branded the Russian pilot who bombed the Mariupol theater a "monster." Satellite images geolocated by CNN show the word "children" was written in large letters on two sides of the building.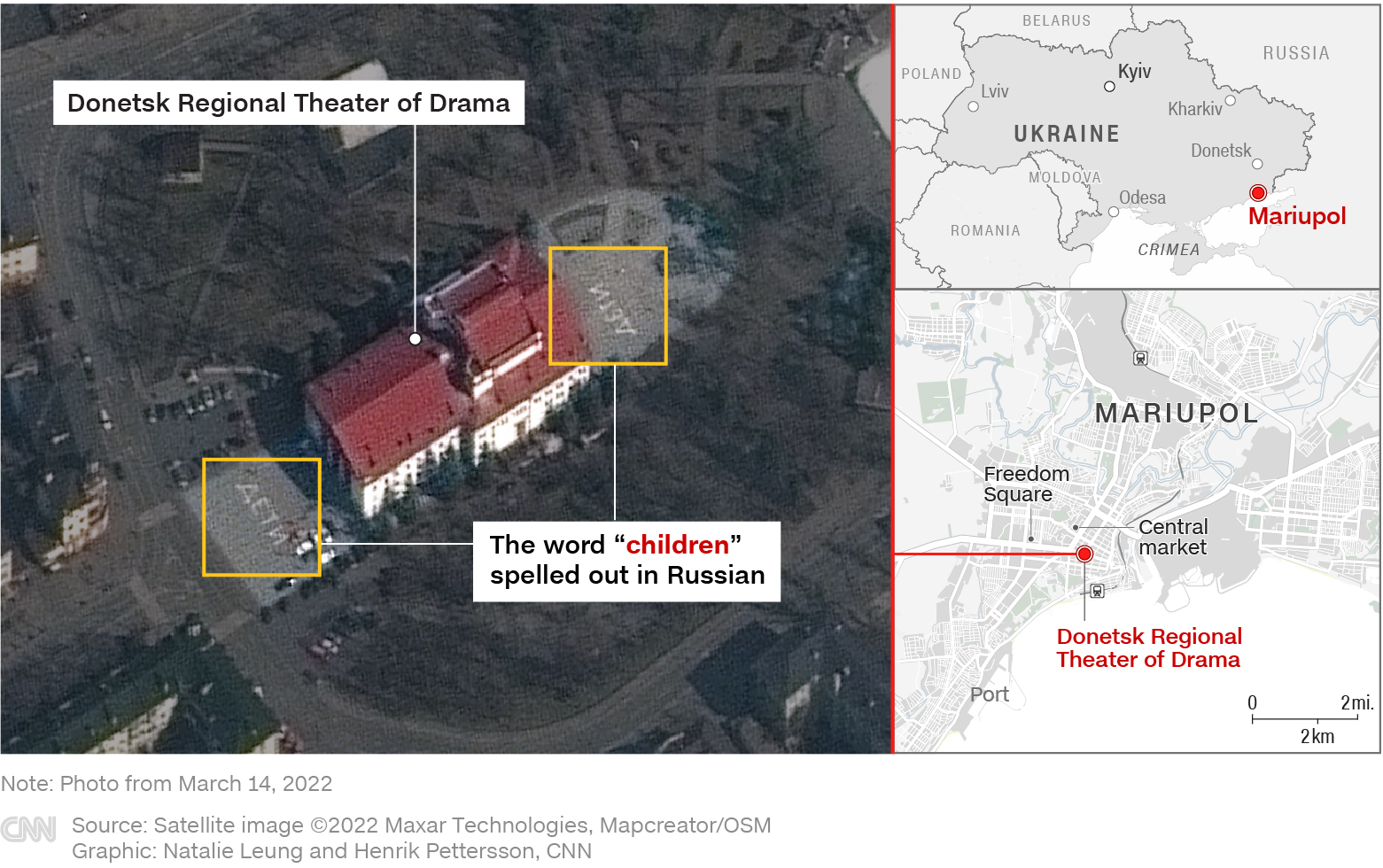 Russian advance: Invading forces are inching toward the capital Kyiv. The majority of Ukrainian territory remains in Ukrainian hands, while fighting in some regions continues to be intense. The head of the Chernihiv region, northeast of Kyiv and close to the Russian border, said that Chernihiv city is "suffering great losses."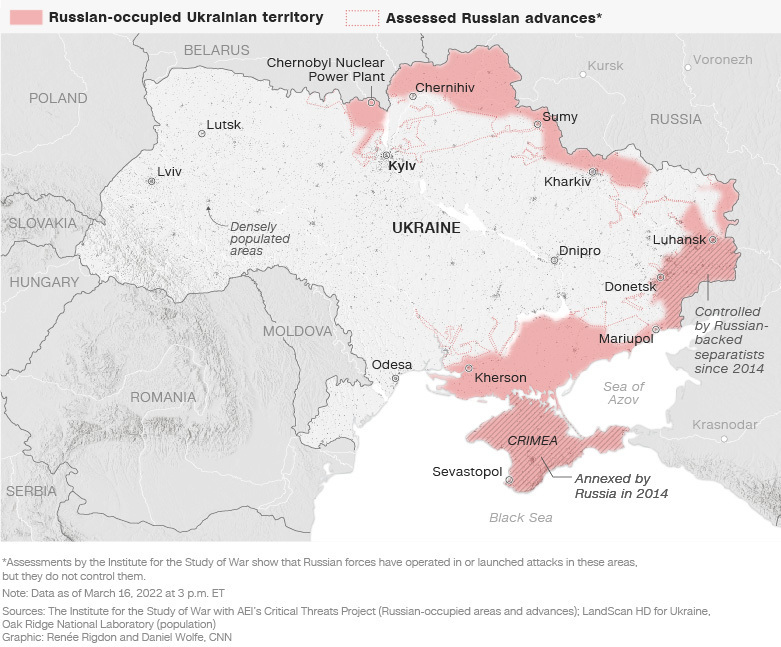 Evacuation efforts: Nine evacuation routes leading out of different Ukrainian cities, including Mariupol, have been agreed for Thursday, the Ukrainian government said. However, Ukrainian President Volodymyr Zelensky said evacuation corridors did not work on Wednesday as the Russian military did not stop shelling.
UN to meet: The UN Security Council will hold a meeting on the humanitarian situation in Ukraine at 3 p.m. ET today.
Appeal to Germany: Zelensky addressed German lawmakers on Thursday, drawing parallels between the Berlin Wall during the Cold War and Ukraine's current position outside of the European Union and NATO. In the address, he also explicitly referenced the post-Holocaust motto: "never again." Zelensky said: "Every year politicians say never again. Now I see that these words are worthless." Chancellor Olaf Scholz said NATO will not risk an escalation in the Ukraine war by intervening with military force.
China dodges question on military aid: China endorsed remarks made by its ambassador to Ukraine on Thursday after the Chinese diplomat pledged Beijing's political and economic support for the war-torn country. But in a sign of Beijing's possible attempt to play both sides, it declined to say if Beijing's support for its ambassador's remarks means China will not offer weapons or other assistance to Russia to support the military invasion in Ukraine.
1 hr 40 min ago
Biden will speak with China's president Friday about Russia's invasion in Ukraine, White House says
From CNN's Nikki Carvajal
US President Joe Biden will speak with China's Xi Jinping Friday about "managing the competition between our two countries as well as Russia's war against Ukraine and other issues of mutual concern," White House press secretary Jen Psaki said in a statement Thursday.
"This is part of our ongoing efforts to maintain open lines of communication between the United States and the PRC," Psaki said.
More context: A Western official and a US diplomat told CNN earlier this week that the US has information suggesting China has expressed some openness to providing Russia with requested military and financial assistance as part of its war on Ukraine.
It is not yet clear whether China intends to provide Russia with that assistance, US officials familiar with the intelligence tell CNN. But during an intense, seven-hour meeting in Rome, a top aide to Biden warned his Chinese counterpart of "potential implications and consequences" for China should support for Russia be forthcoming, a senior administration official said.
Biden and Xi's last known conversation took place in November during a three-and-a-half hour virtual summit. The highly anticipated summit yielded no major breakthroughs — though none were expected ahead of time — and officials dismissed the notion the summit was intended to ease what has become an increasingly tense relationship.
1 hr 52 min ago
US discussing ways to help Ukrainian refugees join family members in America, sources say 
From CNN's Priscilla Alvarez and Kevin Liptak
US President Joe Biden's administration is discussing ways to help Ukrainian refugees join family members already living in the US by providing special pathways for their admission, according to multiple sources.
Under mounting pressure to step up their efforts, Biden administration officials have been considering a range of options, including a fast-track path for those fleeing the Russian invasion as well as a special admission process into the US based on humanitarian grounds, according to one source familiar with the discussions. The proposals could potentially help hundreds of Ukrainians fleeing the violence.
More than three million refugees have fled war-torn Ukraine to neighboring countries in a span of weeks, prompting calls for more nations — and specifically the US — to take in refugees. Polish President Andrzej Duda personally asked US Vice President Kamala Harris last week to speed up and simplify the procedures allowing Ukrainians with family in the US to come to the country.
More background: Biden has faced increased pressure in the last several days to do more to assist Ukraine in its fight against Russia, including from Ukrainian President Volodymyr Zelensky himself on Wednesday. In a speech to Congress, Zelensky called on Biden to be "the leader of the world" and said the US must do more to help his war-torn country.
For Biden, welcoming Ukrainian refugees into the United States would also help advance the notion of Western unity in the face of Russian aggression, according to one official. The President has told his team that the United States should be prepared to do its part, even as the details of how to do that have not yet been finalized.
Even as they work to identify ways to help Ukrainians, White House officials monitoring the refugee situation said they believe the crisis is still in its early stages, with the potential to dramatically expand in the coming weeks or months. There are fears among some that Poland, along with poorer nations in the region, won't be able to accommodate a steady flow of migrants that could persist for months, according to officials.
That has added urgency to the discussions about US assistance, as Biden's aides work to develop options that might alleviate the burden on Ukraine's neighbors.
Continue reading the full story here: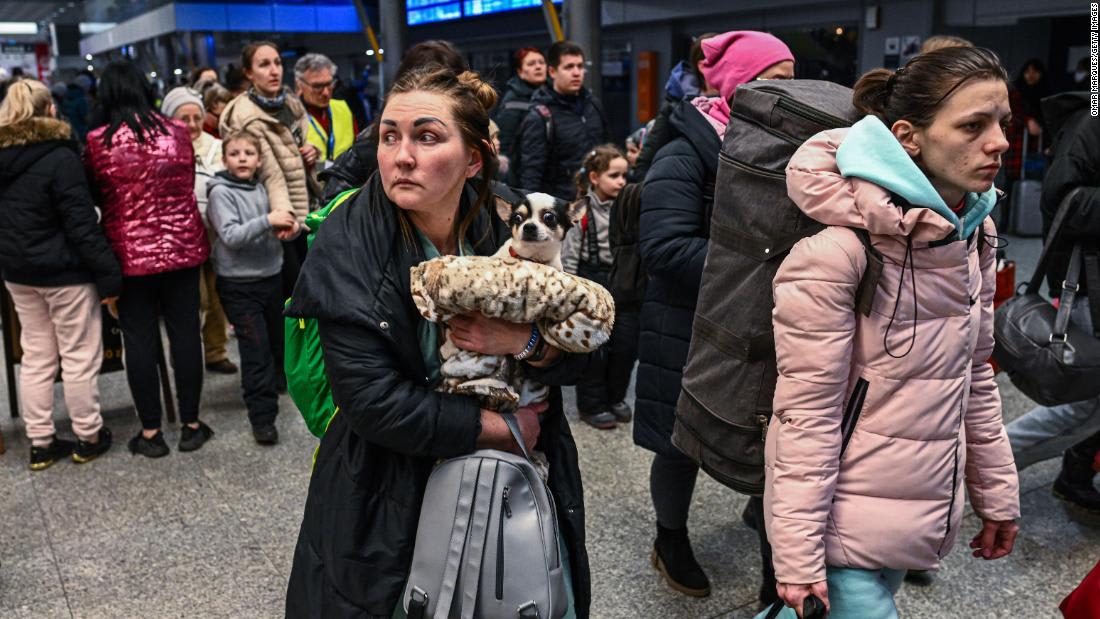 2 hr 11 min ago
Biden calling Putin a war criminal is "unacceptable" and "inexcusable," Kremlin says
From CNN's Lindsay Isaac
US President Joe Biden labeling Russian President Vladimir Putin a "war criminal" is "absolutely unacceptable and inexcusable," Kremlin spokesperson Dmitry Peskov told reporters on Thursday.
Peskov said Biden doesn't have the right to make such statements based on US military actions in the past.
"And most importantly, the head of state which bombed people all over the world for many years and which dropped an atomic bomb on a country [Japan] that had already been defeated — I mean Hiroshima and Nagasaki — cannot have the right to make them," Peskov added.
When asked by a reporter on Wednesday if he was ready to call Putin a war criminal, Biden said: "I think he is a war criminal." Biden initially said "no," but immediately returned to a group of reporters to clarify what had been asked. When asked again whether Putin was a war criminal, he answered in the affirmative.
More background: Officials, including Biden, had previously avoided saying war crimes were being committed in Ukraine, citing ongoing investigations into whether that term could be used. Other world leaders have not been as circumspect, including British Prime Minister Boris Johnson, who said last week war crimes were being committed. The International Criminal Court at the Hague has also opened an investigation into war crimes. And the US Senate unanimously asked for an international investigation into war crimes on Tuesday. US Ambassador to the United Nations Linda Thomas-Greenfield said last week that actions committed by Russia against the Ukrainian people "constitute war crimes," marking the first time a senior US official directly accused Moscow of war crimes since last month's attack on Ukraine began.
After Biden delivered his assessment, the White House said the administration's investigation into war crimes would continue.
"The President's remarks speak for themselves," press secretary Jen Psaki said. She said Biden was "speaking from the heart."
CNN's Sam Fossum and Kevin Liptak contributed reporting to this post.