1 min ago
Dalai Lama calls for peace in Ukraine, says war is "outdated"
From CNN's Jadyn Sham and Lizzy Yee
The Dalai Lama on Monday said he was "deeply saddened" by the conflict in Ukraine, as the exiled Tibetan spiritual leader called for peace and "mutual understanding." 
"War is outdated — non-violence is the only way," he said in a statement. 
"Problems and disagreements are best resolved through dialogue," he added.
"Genuine peace comes about through mutual understanding and respect for each other's wellbeing.
"We must not lose hope. The 20th century was a century of war and bloodshed. The 21st century must be a century of dialogue. I pray that peace is swiftly restored in Ukraine."
18 min ago
Ukrainian intel suggests Belarus is prepared to join Russian invasion
From CNN's Jake Tapper
Ukrainian intelligence suggests Belarus is showing "readiness to maybe participate directly" in Russia's invasion, "in addition to allowing Russians to use their territory as well as letting them cross the border" into Ukraine, a Ukrainian government official told CNN.
A second source close to the Ukrainian government told CNN that in addition to the Ukrainian intel, the Biden administration has also conveyed to Kyiv that Belarus is preparing to invade. 
The Washington Post first reported that Belarus was preparing to send soldiers into Ukraine, citing a US administration official. 
Talks at the border: The intelligence comes as talks are set for Monday between Russia and Ukraine near the Belarusian border.
Belarus is an ally of Russia and is being used as a launch point for Russian troops into Ukraine.
Ukrainian President Volodymyr Zelensky's office said Belarus' President Aleksander Lukashenko called his Ukrainian counterpart on Sunday.
"The politicians have agreed that the Ukrainian delegation will meet with the Russian delegation without preconditions on the Ukrainian-Belarusian border, near the Pripyat River," Zelensky's office said. "Aleksander Lukashenko has taken responsibility for ensuring that all planes, helicopters and missiles stationed on the Belarusian territory will remain on the ground during the Ukrainian delegation's travel, meeting and return."
Belarus' take on the invasion: Lukashenko said last week that Belarusian troops could join the invasion "if it becomes necessary."
"Our troops are not participating in any way in this operation. We're not going to justify ourselves here about our participation or non-participation in this conflict. I repeat once again. Our troops are not there but if it becomes necessary, if Belarus and Russia need them, they will be there," Lukashenko said on tape from state news agency Belta's YouTube channel. 
Zelensky's appeal to Belarusians: On Sunday, Zelensky spoke directly to Belarusians as "neighbors," saying it was "a referendum for you as well."
"You decide who you are and whom to become. How you would look in your children's eyes. How you'd look in each other's eyes. In your neighbor's eyes. And we are your neighbors," Zelensky said.
The White House declined to comment. CNN has also reached out to the US State Department for comment.
White House press secretary Jen Psaki said Sunday morning on MSNBC that the US and its allies reserve the right to further sanction Belarus. The US Treasury Department already issued sanctions against 24 individuals and entities on Thursday.
32 min ago
Thousands of Indian citizens remain in Ukraine as evacuation efforts continue
From CNN's Esha Mitra in New Delhi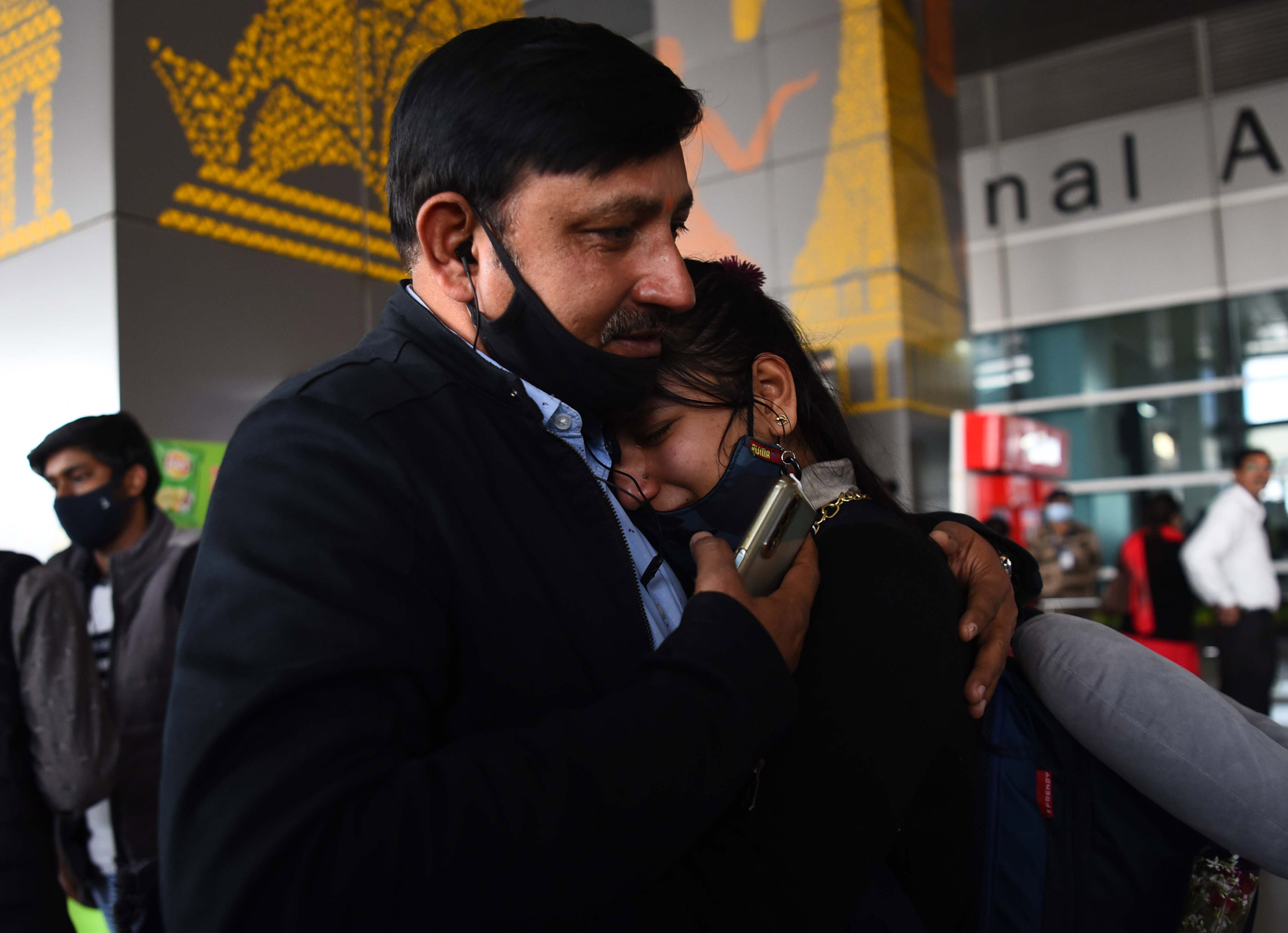 At least 2,000 Indian citizens have been evacuated from Ukraine since the war began, with efforts underway to evacuate "thousands" that remain, India's Foreign Secretary Harsh Shringla said at a news briefing Sunday.
"Many of our citizens have been stuck for long periods of time crossing over into Poland … because this is the main border crossing," Shringla told reporters. He added that there are hundreds of thousands of people trying to cross the border. "It is not an organized situation. It is a conflict zone," he said.
When asked about Indians allegedly facing harassment from Ukrainian forces while attempting to cross the border, Shringla said Ukrainian officials "have been very helpful and I did tell them that we expect in every way that they would assist in facilitating the safe and — to the extent possible — hassle-free evacuation of our citizens."
The UN vote: On Saturday, India was one of three countries, including China and the UAE, to abstain from voting on a UN Security Council resolution condemning Russia's invasion of Ukraine.
India then abstained from another vote to refer the matter to an emergency session of the UN General Assembly on Sunday.
When explaining the decision, the Indian ambassador to the UN said India's Prime Minister Narendra Modi had already spoken to both Russia and Ukraine's leaders, and encouraged peace talks between the two.
38 min ago
Analysis: How Zelensky changed the West's response to Russia
Analysis from CNN's Stephen Collinson
Five days into Russia's brutal invasion of Ukraine, Ukrainian President Volodymyr Zelensky and his courageous nation have already done more to transform the West's policy toward Russia than 30 years of post-Cold War summits, policy resets and showdowns with Russian President Vladimir Putin.
The Ukrainian leader's defiance has inspired and shamed the United States and the European Union into going far further — and far faster — in turning Russia into a pariah state than it appeared they were ready to go. By promising weapons and ammunition to Zelensky, the West appears increasingly to be drawn into a possible proxy war with Moscow over Ukraine, even though it is not a NATO member that benefits from the bloc's direct mutual defense agreements.
After insisting last week that sanctions would be graded on a rising curve based on Russian behavior, Washington and its allies have now rushed to personally sanction Putin and have kicked key Russian banks out of the vital SWIFT global financial network.
Zelensky's emotional appeal: The significant stiffening of the global front against Russia over the weekend followed increasingly fervent calls by Zelensky for help. European leaders reported that in a call with them last week, he had said he didn't know how long he or his country had left.
Few outsiders expected Zelensky, a former comic actor who, to the frustration of US officials, ignored or downplayed US warnings of an imminent invasion for weeks, would morph into a leader to match this moment in his country's history. His dismissiveness changed a few days before the invasion when he made increasingly heart-rending appeals for help.
Read the full analysis:
52 min ago
The sun is rising in Kyiv. Here's what you need to know
As dawn breaks in Kyiv, all eyes are on a Russia-Ukraine meeting set to happen Monday, with tensions high as fierce fighting continues on the ground. If you're just joining us, here's the latest.
Talks set for today: Delegations from Ukraine and Russia will meet on the Ukraine-Belarus border, without preconditions, according to Kyiv's Interior Ministry. The announcement came Sunday, as Ukrainian and Russian forces faced off in multiple cities across Ukraine. Ukraine's President Volodymyr Zelensky said in a brief televised statement that he doesn't expect much from the meeting. 
Nuclear forces on high alert: Russian President Vladimir Putin ordered his country's deterrence forces — which include nuclear arms — onto their highest state of alert on Sunday, citing NATO leaders making "aggressive comments about our country." US White House press secretary Jen Psaki said the move was part of a wider pattern of unprovoked escalation and "manufactured threats" from the Kremlin. 
Closing airspace: The European Union is shutting down Russian access to EU airspace — meaning all Russian-owned, registered and controlled aircraft will no longer be able to land in, take off or fly over any territory of the EU.
Refugee crisis: More than 368,000 Ukrainians have fled the country, according to the United Nations High Commissioner for Refugees (UNHCR). Almost 200,000 refugees have crossed to Poland since the start of the invasion.
Death toll rising: A total of 352 civilians in Ukraine have died following the invasion, Ukraine's Interior Ministry said on Sunday. At least 14 of those killed are children, while another 1,684 people have been injured.
Russian casualties: For the first time since the beginning of the invasion, Russian authorities acknowledged a number of deaths and injuries among their forces in Ukraine, without providing precise numbers. Russia also claimed that the losses were "considerably lower" than those seen in Ukrainian forces.
Anti-war protests: Russian authorities have detained almost 6,000 people for participating in unsanctioned anti-war protests across the country over the past four days, an independent monitoring site reported.  
56 min ago
Ukraine's Air Force claims successful drone strike on Russian forces near Kherson
From CNN's Paul P. Murphy
The Ukrainian Air Force posted a video on Facebook on Sunday morning, claiming to show a successful drone strike by the military.  
According to the Ukrainian Air Force, the purported attack took place in Chornobayivka, which is just north of Kherson. It's unclear when the strike took place. 
In the video taken by the drone, a column of vehicles is seen on a road. An explosion is suddenly seen, appearing to hit the middle of the column, obscuring the view of the vehicles.
In recent days, Kherson has been the site of intense fighting between Ukrainian fighters and Russian forces attempting to advance across the Dnieper River. 
1 hr 7 min ago
In Pictures: Buildings lit up and rallies held worldwide in support of Ukraine
South Korea's capital has joined a number of cities around the world lighting monuments in blue and yellow in support of Ukraine, reflecting the colors of its national flag.
Four landmarks in Seoul — the City Hall, Namsan Seoul Tower, Sebitseom on the Han River and Seoullo Media Canvas — were lit up on Monday.
Meanwhile, Ukrainians and supporters protested against the Russian invasion outside Moscow's embassy in Seoul on Sunday and Monday.
New York's Empire State Building was also lit up blue and yellow last week, with crowds gathering in Times Square on Saturday to protest the Russian invasion.
One protester, Olga Ladygima, told CNN she hadn't slept for the past three nights. She is from the Ukrainian capital Kyiv, she said — and her friends in Ukraine have stayed up too, making homemade bombs to try to stop Russian tanks.
Approximately 100,000 people in Germany's capital, Berlin, attended a protest this weekend against the invasion, police told CNN.
Crowds walked between the Russian embassy, Brandenburg Gate and the Victory Column on Sunday wearing blue and yellow, and holding up signs showing solidarity with Ukraine.
1 hr 20 min ago
Why Russia's invasion of Ukraine is being called the "TikTok war"
From CNN's Ramishah Maruf
Ukrainian Instagram influencers are now warzone witnesses and urban warfare experts are tweeting tips to Ukrainian fighters, CNN's chief media correspondent Brian Stelter said on Sunday.
But the onslaught of words and images is fueling a confusing media environment where disinformation is rampant.
Snapshots from the ground: David French, a senior editor at The Dispatch, said social media is showing Americans just how "incredibly brutal" this war is, but those platforms don't offer an overall strategic view, such as the positions of Russian forces or the real number of casualties.
"Each one of these TikTok videos is a tiny little snapshot of a tiny little moment of time, often without any other overlaying context," French said. "And so you really would have to spend an enormous time with some real background to begin to piece together the TikTok jigsaw puzzle."
Resistance going viral: French added that the immediacy of these social media feeds may have prompted Western nations to "fall into line quickly" on stricter sanctions.
"The inspirational nature of Ukrainian resistance that is shaming a lot of Western governments, quite frankly, into action," French said.
But so is disinformation: Stelter cited a prime example of misinformation being spread on social media — a video of Russian paratroopers shared widely on TikTok and Twitter with millions of views, that turns out to have been filmed in 2015.
Jane Lytvynenko, an investigative reporter and researcher specializing in disinformation, said few people understand information warfare as well as most Ukrainians.
"Propaganda is a part of every war," Lytvynenko said. "And the point of propaganda coming out of Russia right now is to undermine Ukrainian narratives and to scare Ukrainian people."
Read the full story: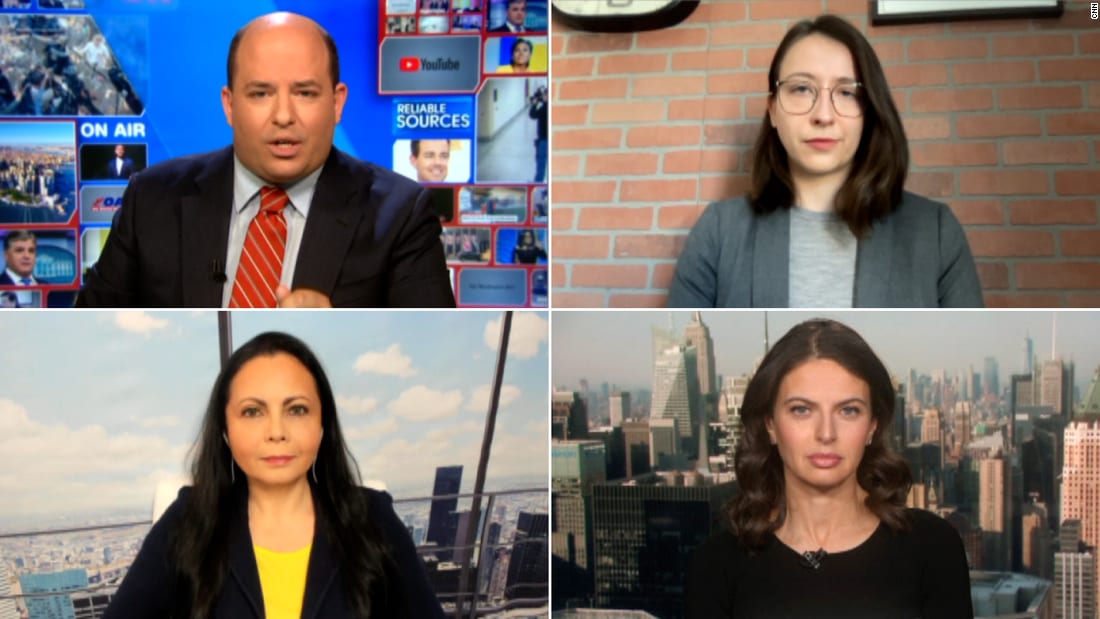 48 min ago
Satellite images show more than 3-mile-long Russian military column on roadway to Kyiv
From CNN's Paul P. Murphy
As Ukrainians continue to repel Russian advances around Kyiv, new satellite images show a more than 3-mile-long Russian military convoy is on a roadway that heads toward the capital city.
According to Maxar, the convoy was seen on satellite images on Sunday around 10:56 a.m. local time on the P-02-02 road near Ivankiv, which is about 40 miles (60 kilometers) northwest of the Ukrainian capital. The P-02-02 road goes toward Kyiv.
Maxar identified fuel and logistical trucks, in addition to tanks, infantry vehicles and self-propelled artillery moving in the convoy.