By LI BINGCUN,DENG ZHANGYU and CHEN SHUMAN in Hong Kong | China Daily | Updated: 2021-12-06 09:04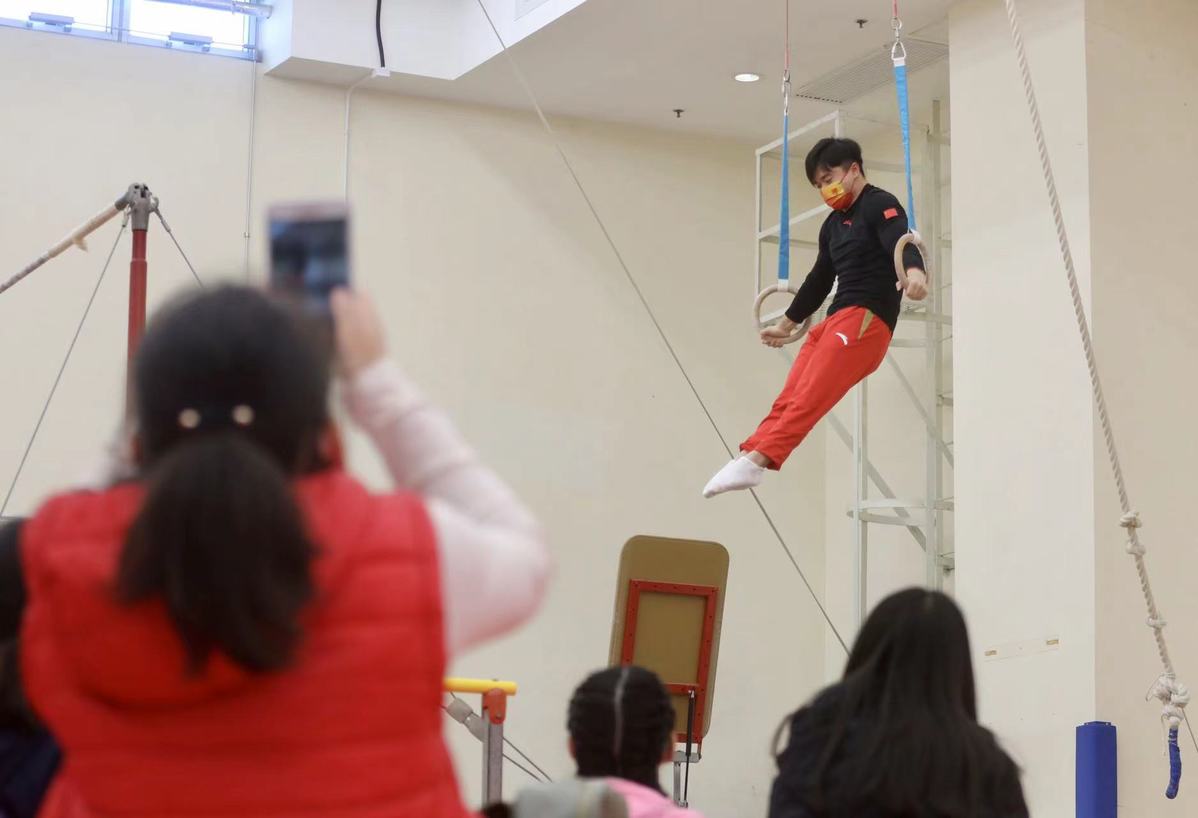 Hong Kong's passion for sports hit new heights over the weekend thanks to a three-day visit by Chinese mainland Olympians that featured dazzling demonstrations of sports prowess, the sharing of inspiring stories, and fun interactions with local communities.
During their short tour, the mainland athletes shared the frustrations and triumphs behind their success, and won respect, love and support from Hong Kong residents.
Extending the tradition of mainland Olympic medalists visiting Hong Kong, a delegation comprised of 29 mainland athletes and three coaches from 12 sports who attended the Tokyo Olympic Games this year visited Hong Kong from Friday to Sunday.
The delegation included Asia's fastest man, Su Bingtian, who set a new Asian record in the men's 100m at the Tokyo Olympics, table tennis Grand Slam winner Ma Long, and Sun Yiwen, the first Chinese fencer to win an Olympic gold medal in individual women's epee.
After arriving in Hong Kong on Friday afternoon to an enthusiastic greeting by residents, the sports stars showcased their elite skills in sports including fencing, gymnastics, badminton, diving and swimming on Saturday and then staged a 90-minute variety show that evening.
About 5,300 Hong Kong residents got the chance to enjoy the Saturday performances, with most tickets snapped up in an hour. The demonstrations included many eye-catching competitions, such as one between Ma and fellow mainland table tennis star Xu Xin, and trampoline and vault competitions between mainland and Hong Kong athletes.
Six members attended a sharing session at Hong Kong Polytechnic University on Sunday. The delegation also met with local athletes, sports groups and public service officials during the visit.
After wrapping up the visit on Sunday, the delegation started 14 days of quarantine in Zhuhai, Guangdong province. It will visit neighboring Macao from Dec 19 to 21.
In Hong Kong, the athletes shared stories of pursuing their dreams, their connections with Hong Kong, and gave encouragement to local youngsters.
Ma stressed the importance of confidence, self-discipline, a positive attitude, and communication with teammates and family members, all key factors to success for athletes. Xu talked about his bond with Hong Kong, where he won his first adult championship in 2009, while Su shared the inspiration he drew from his idol William So Wa-wai, a Hong Kong athlete who took part in five Paralympic Games, winning six gold medals, three silvers and three bronzes.
The athletes' visit inspired local residents. Tse Sa-mei, a 73-year-old Ma fan, was among the first people to arrive at Queen Elizabeth Stadium to see the Saturday demonstrations.
Tse expressed her wishes for the sports star to stay healthy and keep playing table tennis for the nation.
"Although he's already 33, I hope he can continue playing, and earning glory and pride for the nation," Tse said, adding that her greatest wish is to see Ma take part in the 2024 Paris Olympics.
Nine-year-old gymnast Hannah Wong said that communicating with the delegation face-to-face had made her very happy and she enjoyed their performance up close. She said they were role models and meeting them was a good learning opportunity.
After meeting with Ma and Xu on Sunday, Chau Wing-sze, a member of Hong Kong's table tennis team, says it was a very rare chance to communicate with Olympic champions in Hong Kong. Such exchanges will help local athletes improve their skills, she added.
Officials extended their gratitude for the delegation's visit. Hong Kong Chief Executive Carrie Lam Cheng Yuet-ngor said the exchange activity was a living embodiment of the central government's care for Hong Kong that would help it better integrate with national development and bolster the national pride and identity of Hong Kong people.
Luo Huining, director of the Liaison Office of the Central People's Government in the Hong Kong Special Administrative Region, said the continued endeavors of athletes have propelled the nation's development and prosperity. Expressing pride in the delegation's outstanding performance at the Tokyo Olympics, he said he was grateful for the brilliant shows it presented to Hong Kong residents.