The great thing about a cannabis gift guide is that it can serve two purposes. Firstly, it can provide lots of cool ideas for presents to give to your stoner friends and family. Secondly— and more importantly—it can provide you with self-gifts to medicate your way through the season in style.
This year I decided to throw a little stoner "Tupperware" party and invited a few friends over to sample the items that arrived for consideration for this year's guide. It's one thing for me to try everything in my house by myself, but far better to see how it behaves in the wilds of a party. 
I made sure everyone had plenty of water and plopped down a tray of gadgets, topicals, drinks, edibles, pre-rolls, and flower. My friends dove right in, and had no problem expressing their opinions through the ever-growing purple haze.
All prices are as listed on website unless otherwise noted.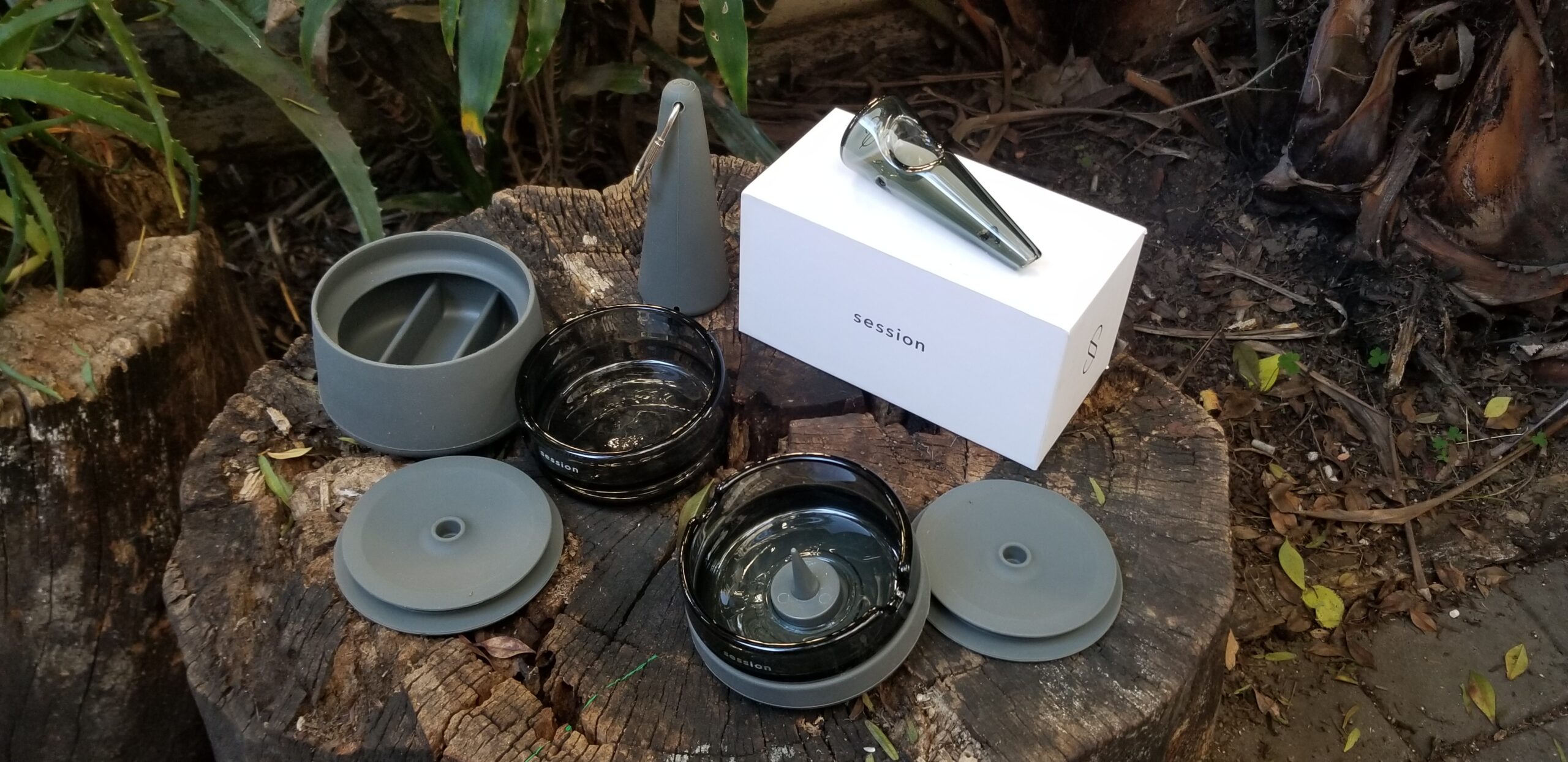 The most popular item by far was The Session Pipe ($40, extra silicone shells $20), which was designed in San Francisco. It has a nice design, smokes well, doesn't get too hot, and pops in and out of its silicone shell easily. The shell can easily be attached to a backpack or keyring. The pipe stays secure inside the shell and will not drop out. Someone pointed out that it even looked like a Christmas tree. The shell comes in several colors, and everything comes packaged in a nice box. Order online.
Session also offers some pretty cool accessories as well, available in the cool grey color the brand favors. They have a stash jar ($40) with an airtight lid and a bottom storage bowl divided into three sections, and a handy ashtray ($40) with an airtight lid and a detachable debowler or poker device.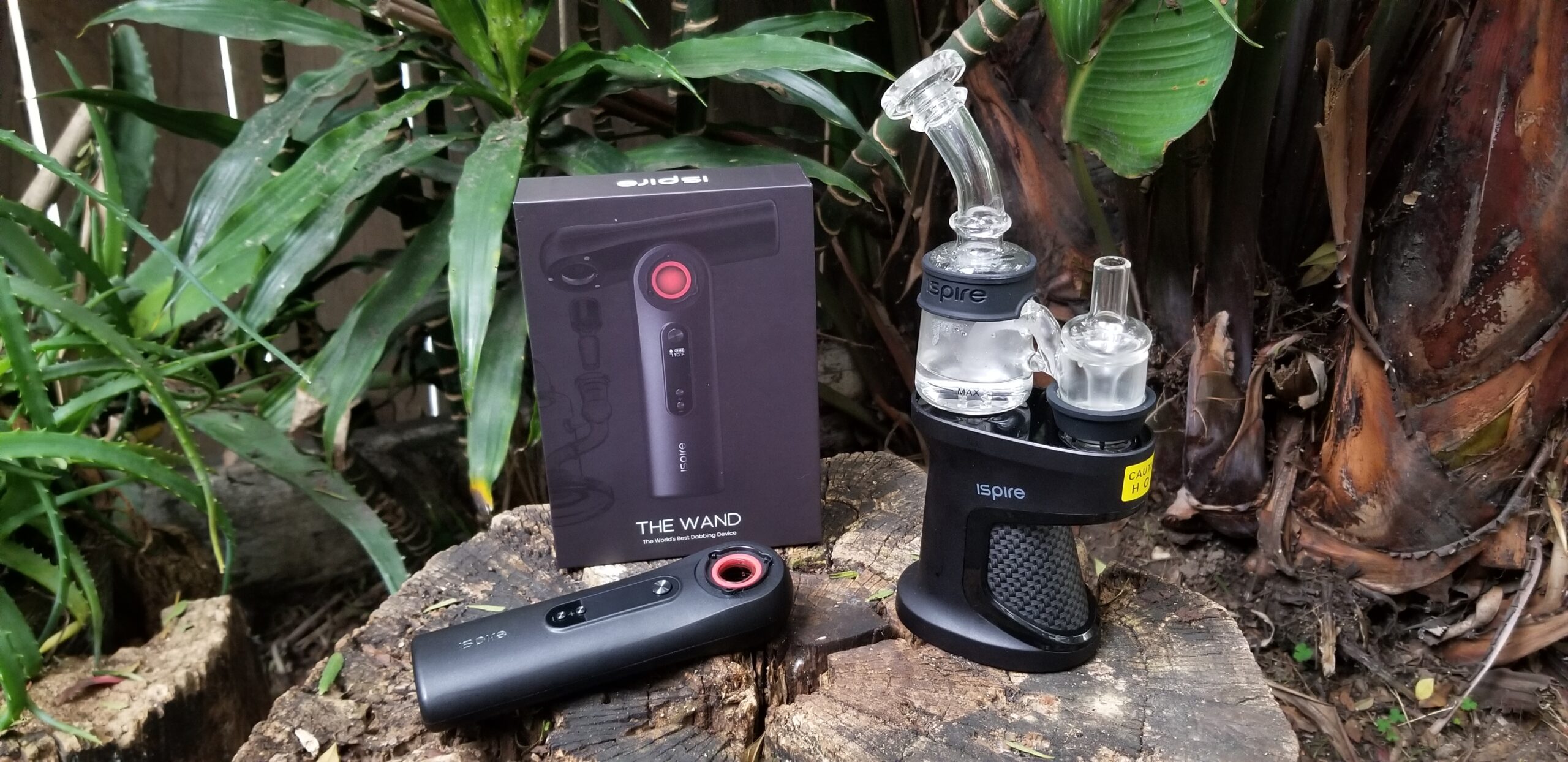 Another favorite gadget was the Wand from Ispire ($169). It looks like a fancy new wrench, but in actuality, it is an e-torch using induction heating. The kit comes with two borosilicate glass bowls with metal and glass cups you put inside them. You can turn any bong into a dab rig as long as you can fit the bangers into the stem. Then, you place the easily rechargeable e-torch device over the bowl and hit the button. A light will blink until heated, at which point it becomes steady. Remove the torch and dab away at the heated bowl using the carb cap. We caught on how to use it easily, and it produced a great dab experience for all. The wand uses induction heating to create heat and is cool to the touch—just don't stick your finger in the hole right after. There is a posable stand for The Wand which can be purchased separately. 
Ispire also has another fantastic gift idea for that super stoner in your life, and that is the Daab ($300). Again, we were able to set up the machine and adjust the temperature (535 Fahrenheit) by following the pictures in the manual. I double clicked the fire button and a light blinked several times until heated. Before you know it, we were exhaling lovely pot vapor, which of course, always leads to a nap. The Daab is rechargeable and comes in a nice hard case, making travel easy.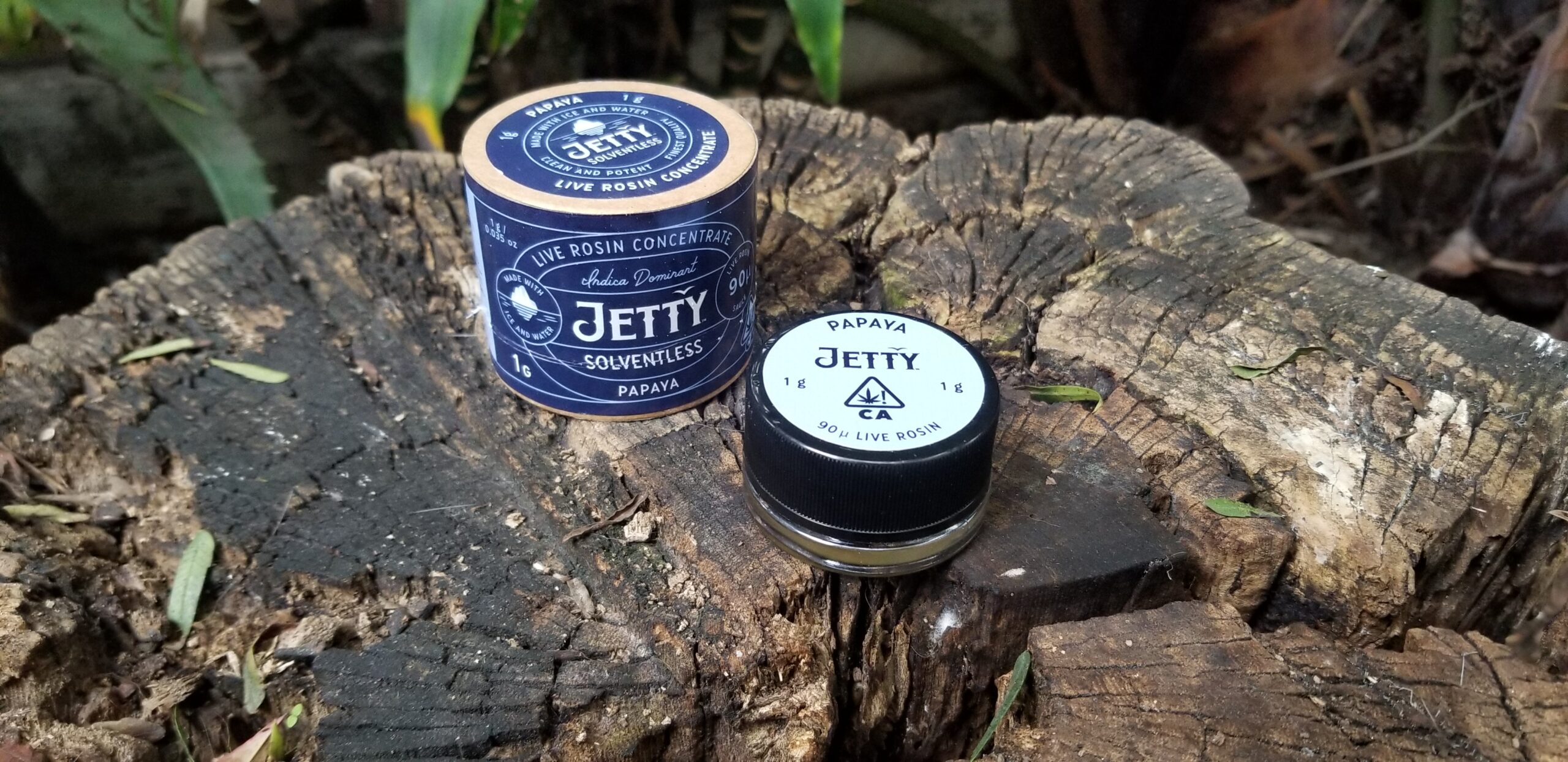 We tested out both machines using Jetty Extracts' solventless Papaya Live rosin concentrate (about $55/gram at most dispensaries), which gave us a great terpene taste and a buzz to match. They have a store locator on their website to find out where you can buy at a dispensary near you.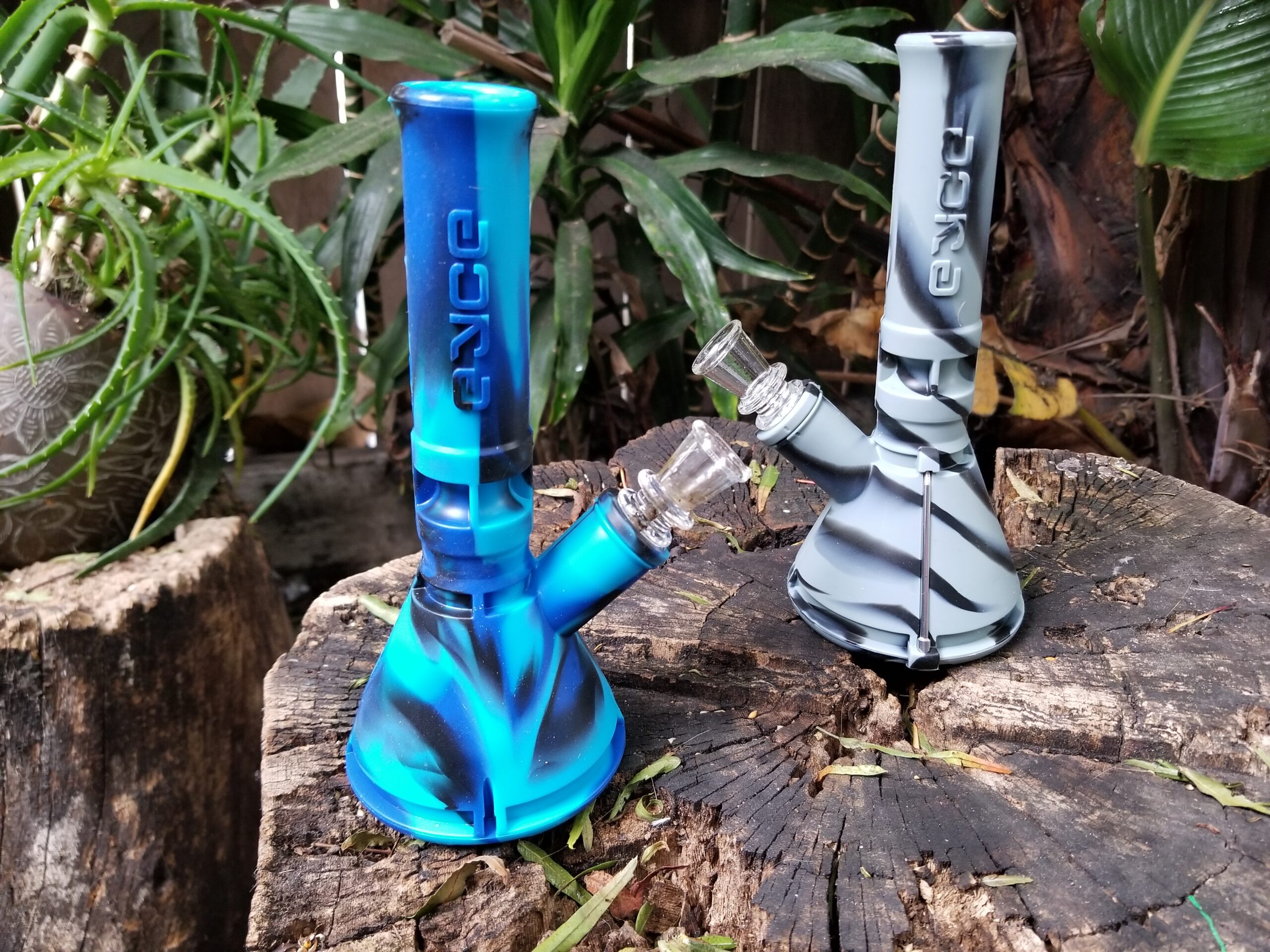 Speaking of traveling, Eyce has a Mini Beaker silicone water pipe ($44.95) that is perfect to throw in your backpack for a trip. The bowl comes out easily for cleaning. There is a poker tool attached to the side and a secret stash bowl fitted under the bong. Just add a little water for a party, and then rinse it out when you are done and move on. The Eyce site provides a store locator to pick it up locally. I like the grey striped one because it looks kind of Star Wars-y. Everyone enjoyed using it, and gave it the thumbs up.
So far, my guests had dabbed and smoked weed. It was soon time for some dermal action with topicals while we enjoyed our buzz.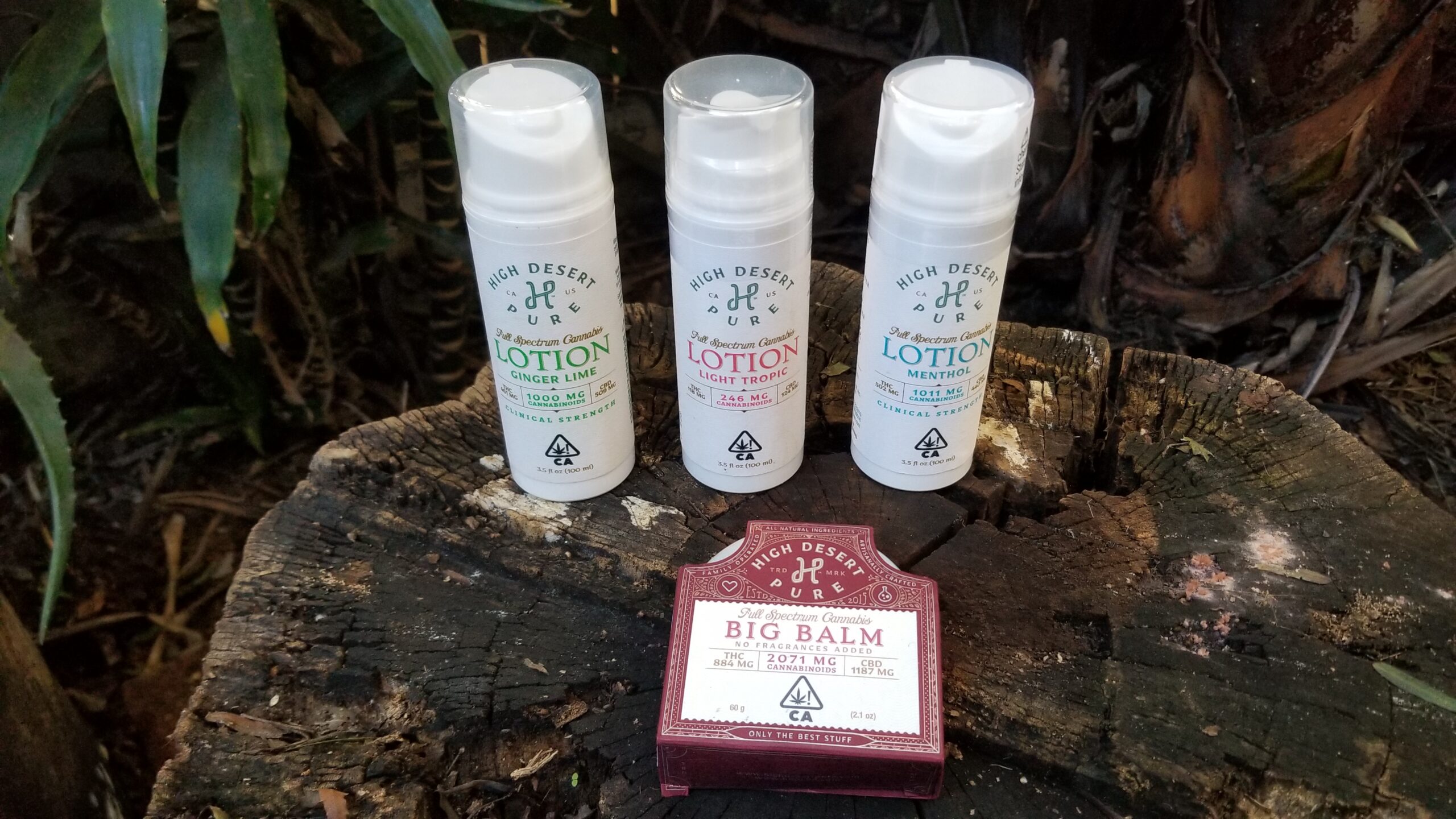 I discovered High Desert Pure at the Hall of Flowers in Santa Rosa. They sucked me in with their full spectrum cannabis lotion promising 1000mg cannabinoids (461mg THC/509mg CBD). It was easy to rub into the skin and not greasy. I got a sample of their ginger lime flavor (Weed Maps says it retails for $66-100 for 1000mg in stores). When I got home that night, my lower back was aching, so I grabbed the new lotion and slathered some onto my back. By the time I got to my chair from the bathroom, the pain had lessened considerably. I thought I was tripping at first, but a few days later the same thing happened. 
At the party we tried their menthol, light tropic, CBD lotions, and their big balm salve ($23-$78 a bottle), boasting 750mg of both THC and CBD—which is more greasy. The scents are pleasant and not overpowering. Everyone was a fan. So far a handful of places in the Bay Area are carrying it, including Mission Organic Center in San Francisco.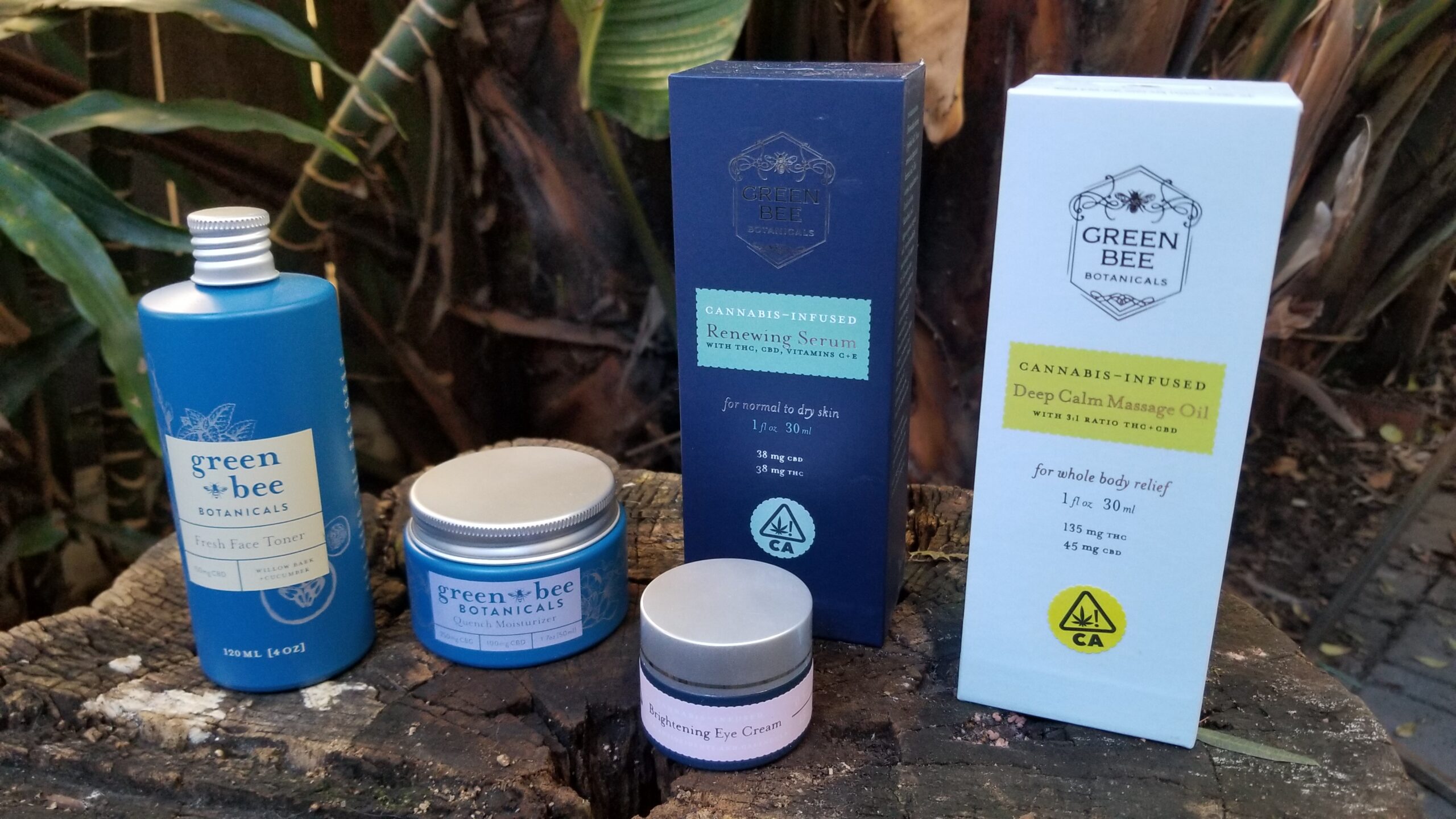 Green Bee Botanicals has two new products to add to its award-winning line of cannabis infused skin products, the Fresh Face Toner and the Quench Moisturizer. These items join their Brightening Eye Cream, Renewing Serum, Perfecting Face Serum and Deep Calm Massage Oil to make an unbeatable team to keep your skin nice and stoned.
Green Bee can be found in many dispensaries around town (again, there's a store locator on the website.) The packaging is beautiful, and the products are high quality. Everyone enjoyed testing them out, and a few of my guests made notes on getting these for members of their family.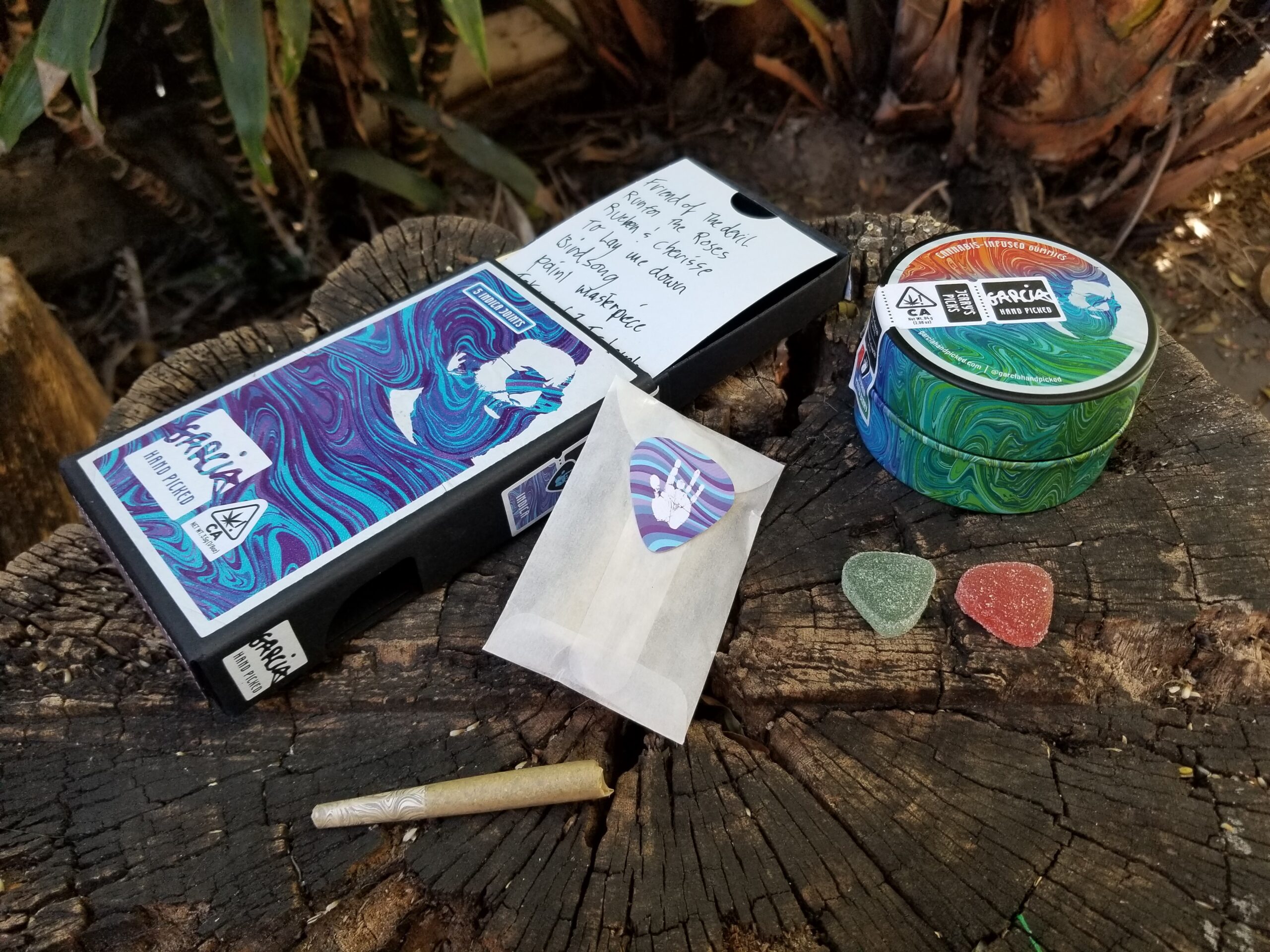 The best gummies I had this year were the mixed berry gummies by Garcia Hand Picked (approximately $20 in stores). Those big chewy guitar-pick-shaped treats had great flavor and were only 5mg each (20 in a tin), so we could snack on a few. The tin is well designed and perfect for reuse. Two of my friends picked it up and remarked how much they liked the canister. The joint packs ($45 for five joints in stores) are beautifully designed as well. I tried the indica joints and was happy. They are conversation starters. No matter what you may think about a dead rock star selling weed, these items are beautifully made, and people will really like them as a special gift. There is a store locator on their website.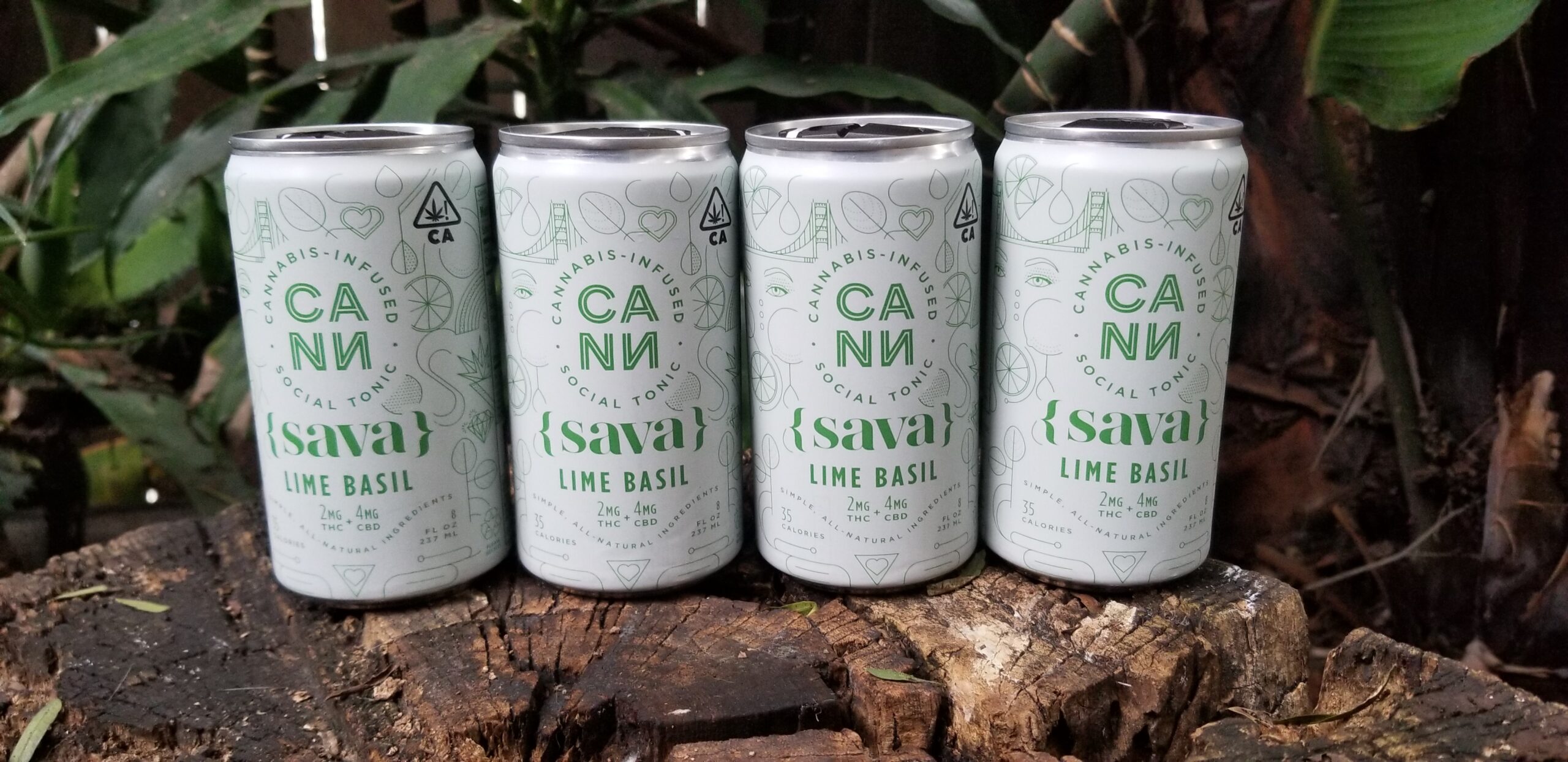 We were all excited to see two queer companies join forces on a new beverage. Cann and Sava have released a lime basil social tonic ($12 per four-pack for delivery on Sava.) It contains 2mg THC, 4mg CBD and 35 calories. The taste was lime-y with that hint of herb, and everyone agreed you could use it as a mixer as well as a refreshing drink.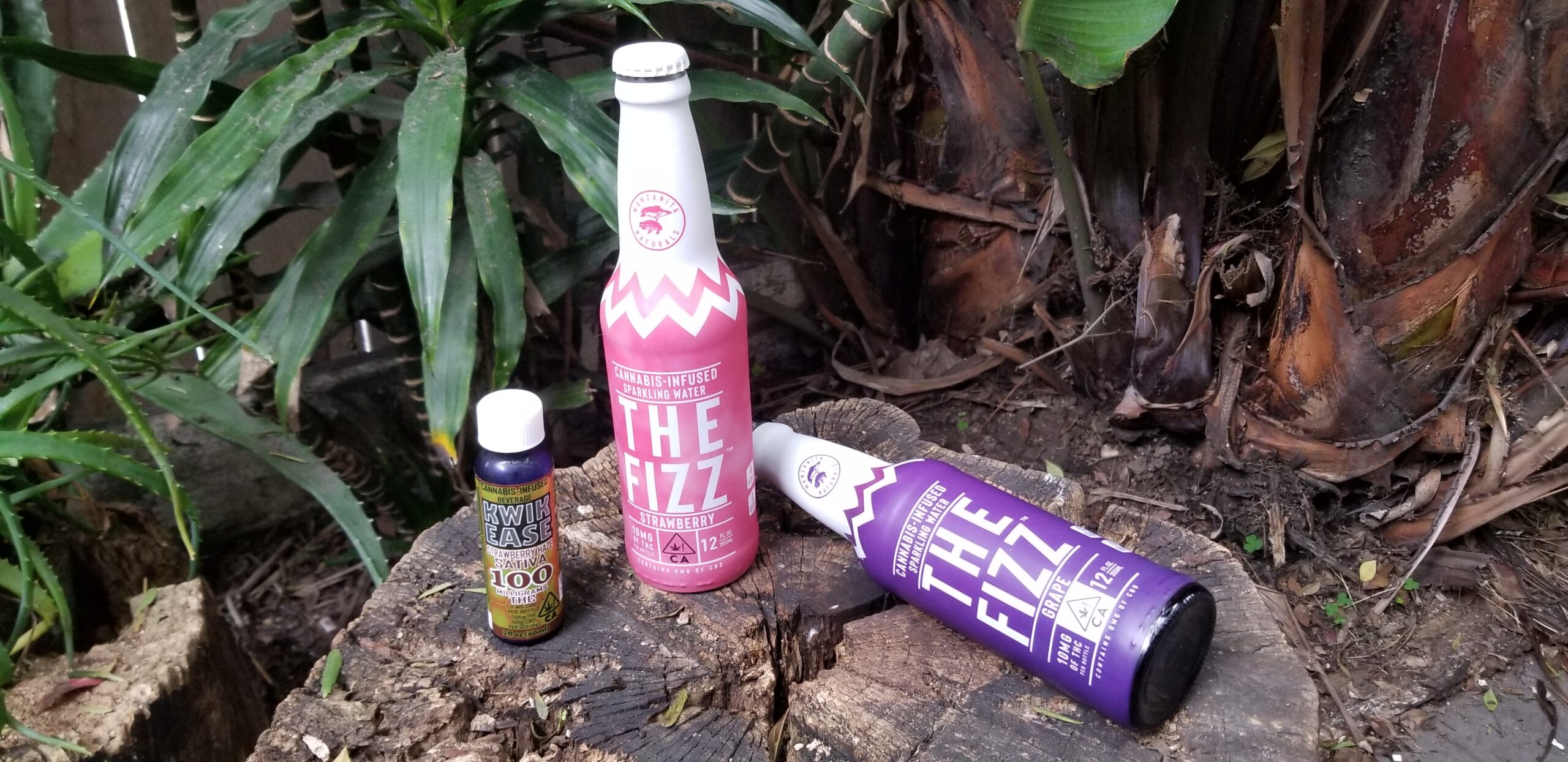 The awesome guys over at Manzanita Naturals are still putting out new flavors regularly, including grape and strawberry-flavored, zero calorie The Fizz sparkling waters (around $8 each) with a nifty 10mg of THC—and their Strawberry Haze Sativa Kwik-Ease ($15), sporting 100mg THC in just 2 ounces. Everyone at the party especially loved Kwik-Ease and had stories about how it killed the pain, made them sleep or party harder. They are a great stocking stuffer idea. My personal favorite beverage of theirs is Natural Cola. They are available in most dispensaries around the Bay Area.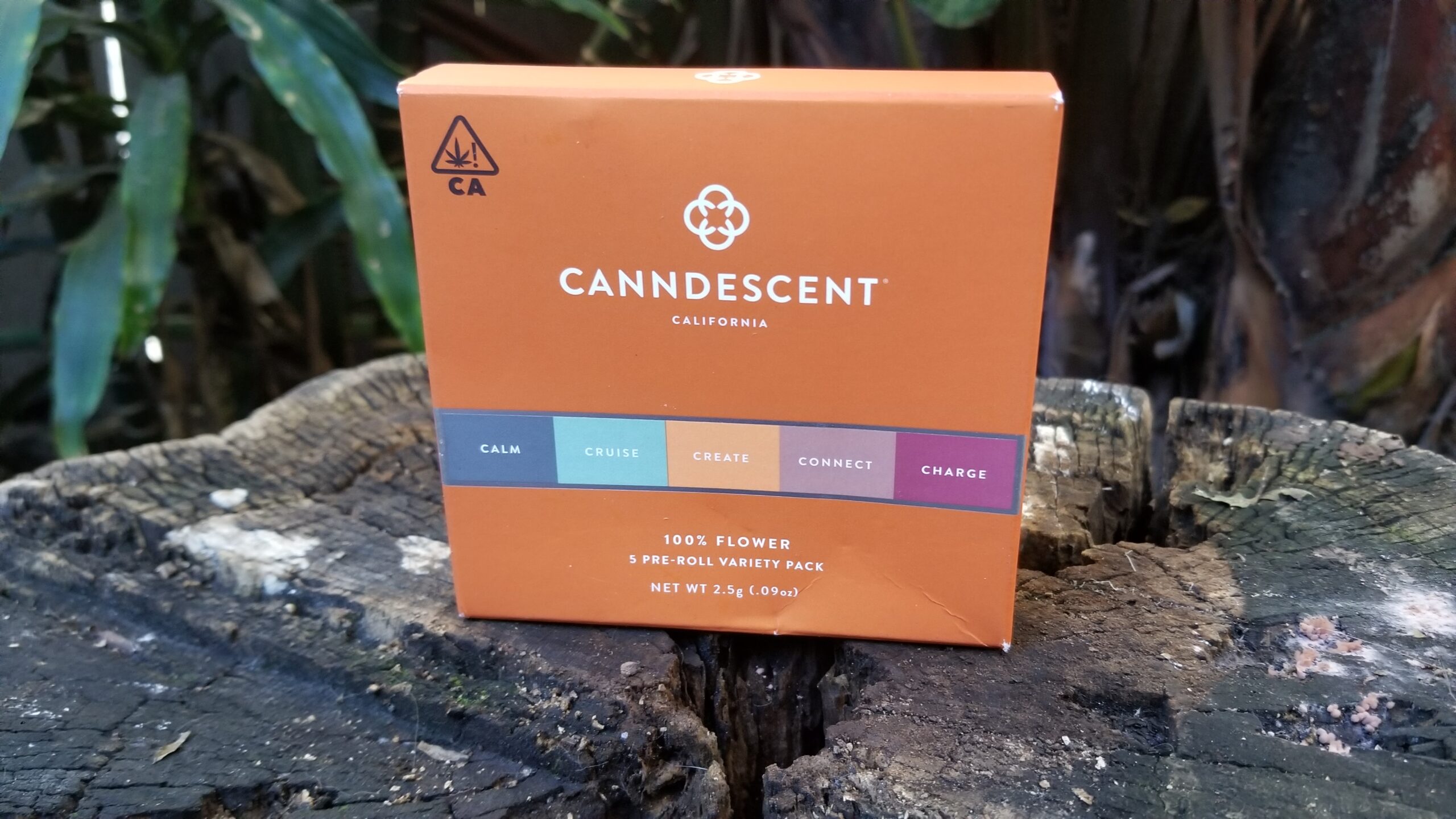 Canndescent has put together a nifty five-pack of their pre-rolls ($50). They do not go by strain names but instead, the feelings they elicit—Calm, Cruise, Create, Connect, and Charge. Each one is between 21 to 27 percent THC with a sprinkling of CBD. They are perfect for the newcomer as well as more experienced smokers. We enjoyed the flavors and commented that it would be a great gift to bring the hosts of a party, crack open among friends at a gathering, or just your own little palette of cannabis moods to enjoy. Canndescent products can be ordered off of their website, and I saw their display recently at Joy Reserve at Westfield Centre.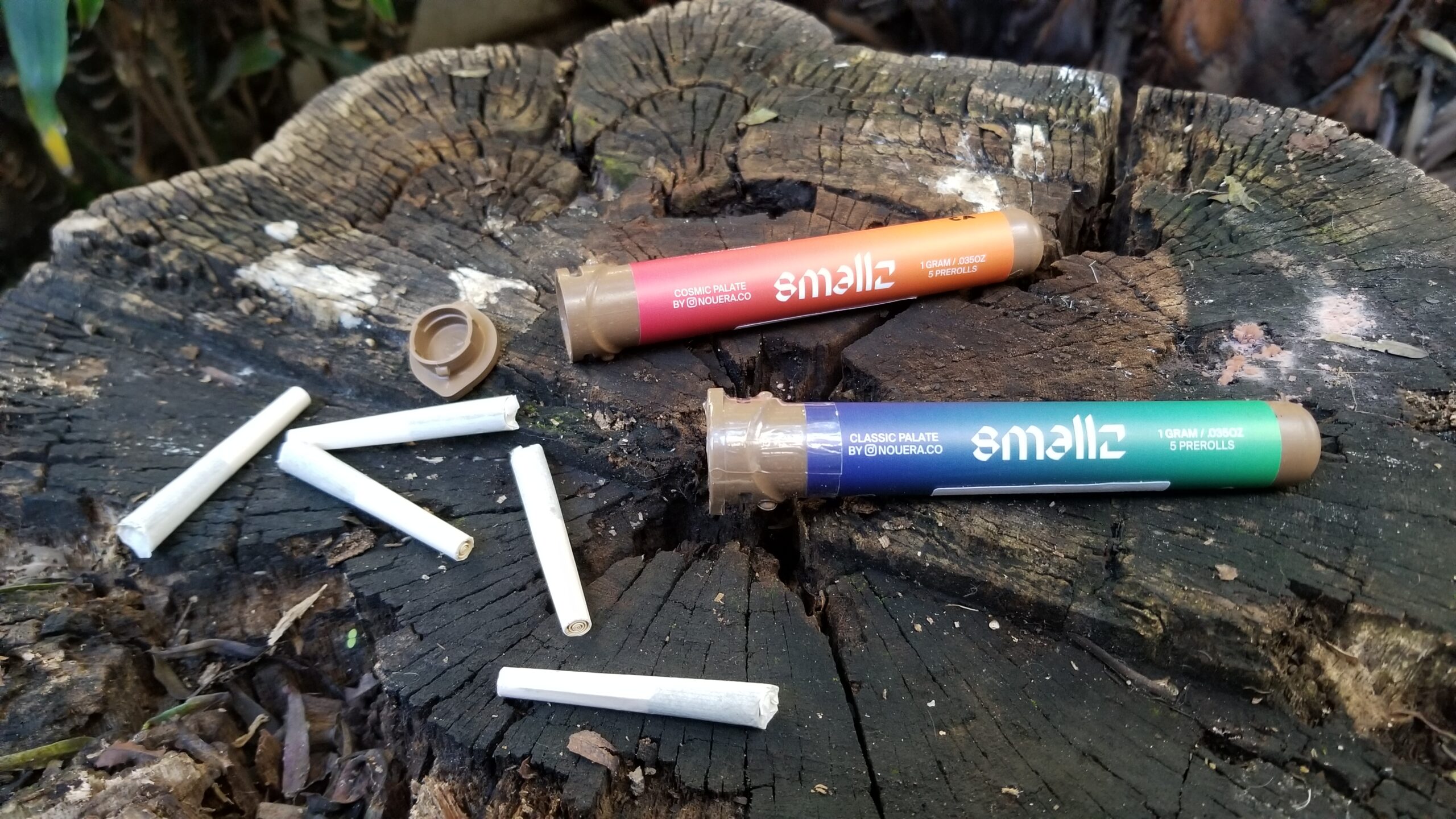 Another popular item was Smallz by Nouera ($17 via Sava delivery), a locally owned Asian-American, female-founded company that is powered by SF Roots—a great Bay Area source of weed. Basically, it is five mini-joints in a doob tube. The quality is fantastic, and I like sticking the tube in my pocket for easy access. These days you don't really want to share a joint, so just give everyone their own mini and smoke away. Also, the tube has a good locking device so it is easy to open and seal back up. These can be ordered through Eaze or Sava.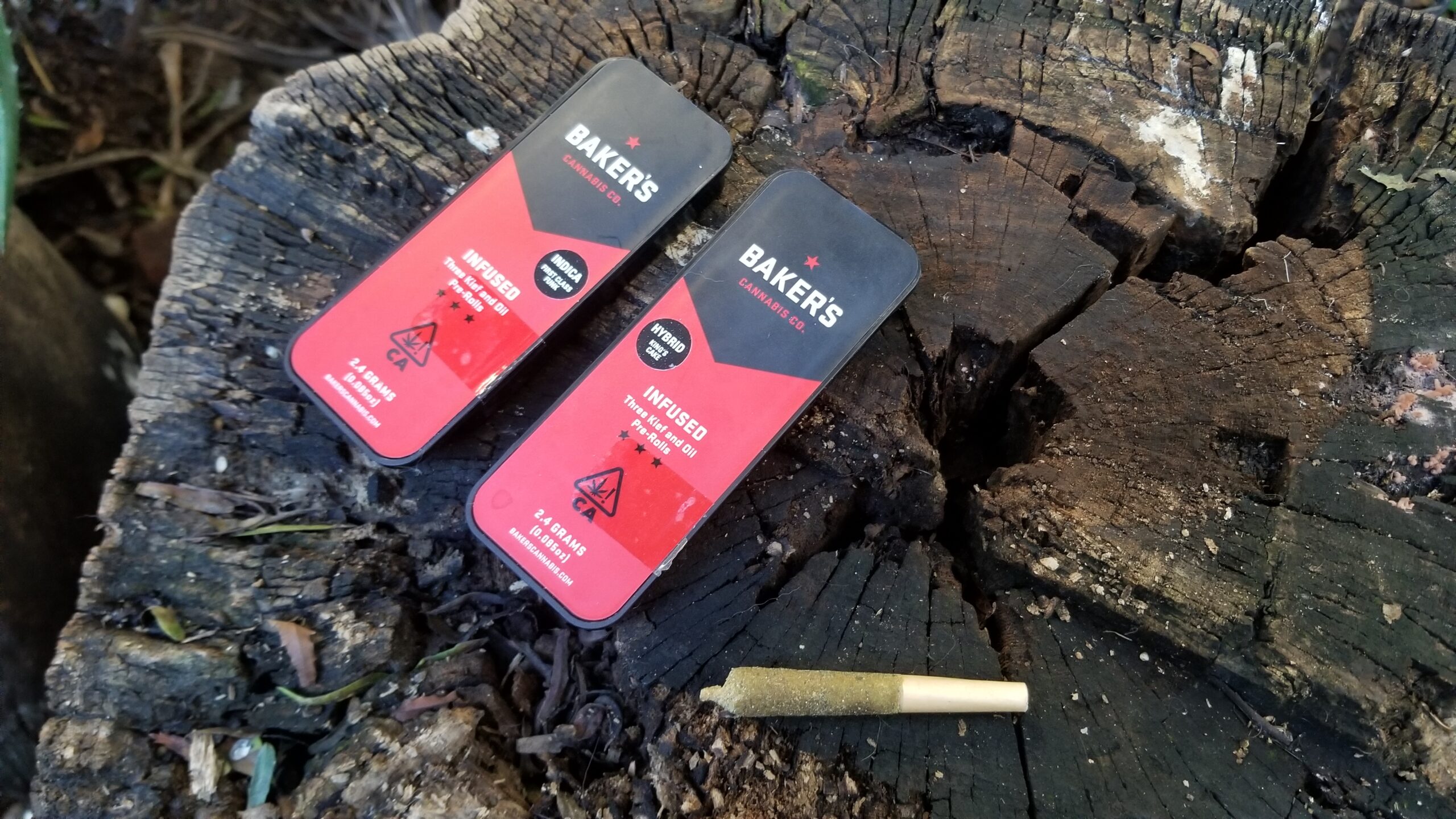 Anyone that knows me, knows that I love a good pre-roll with lots of extras, so I was stoked to try Baker's Cannabis Co's triple kief and oil pre-rolls (retail for around $23 per pack). Their indica hybrid of King's Cake and First Class Funk was potent. They had the desired fuzzy, green coating on the outside. They lit easily and pulled well. 
Lately, I have had problems with some of these pre-rolls having their crutch wound too tight. I end up having a hard time pulling smoke through and have to do the emergency procedure of chopping the cherry off with scissors into a bong or pipe to finish smoking. 
We had no problem smoking these babies. They smoked nice and easily. We did get the desired "zonked out" effect we were all hoping for in this kind of a joint. Perfect for a movie or binging on Netflix. You can order them online or search for a nearby store on their website.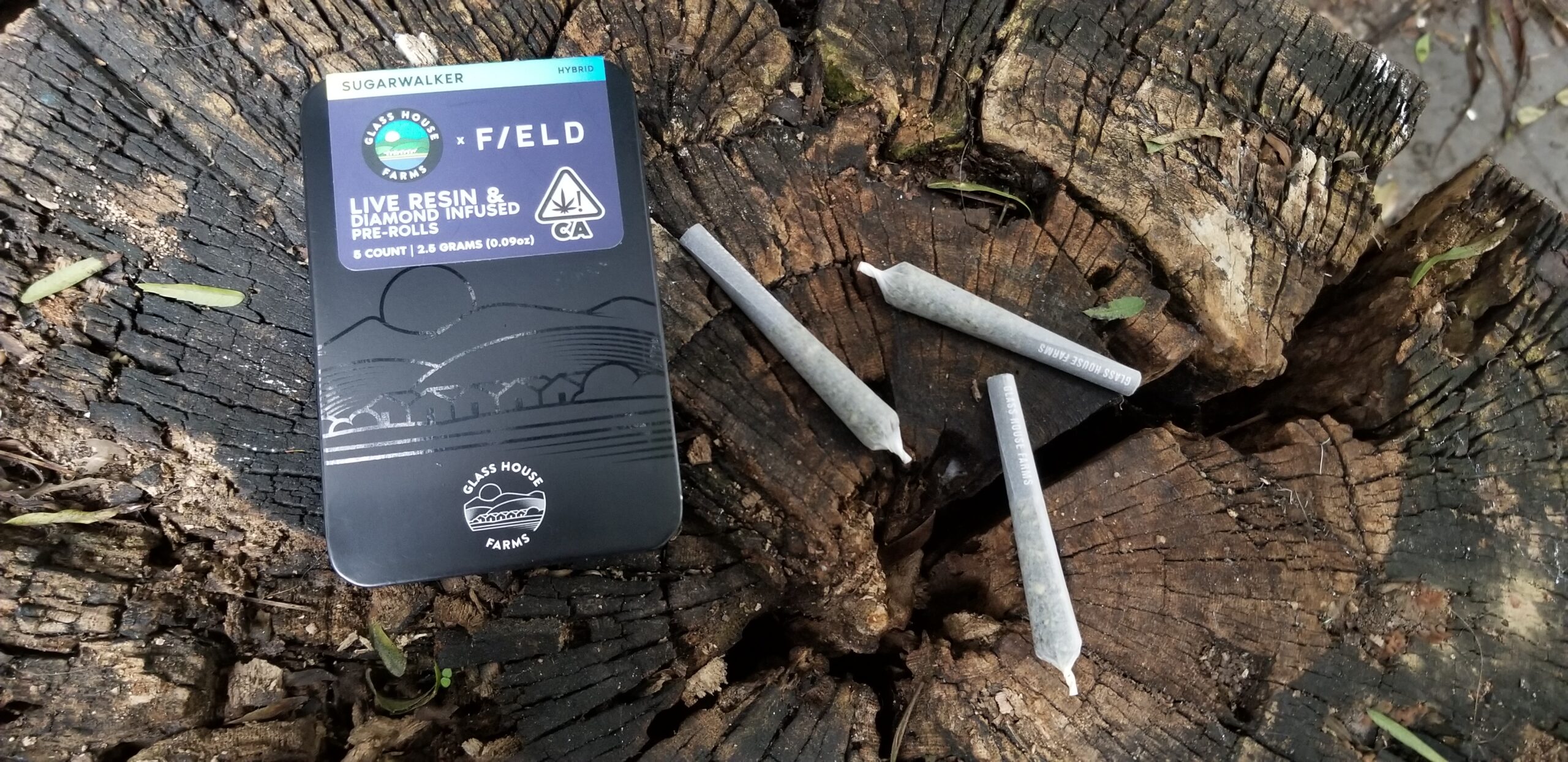 Glass House Farms has a really nice selection of live resin and diamond infused pre-rolls in collaboration with F/ELD. We sampled the Vacay Mode indica, Saber Fruit sativa, and Sugarwalker hybrid (five-pack runs about $42). They all had good flavors, smoked smoothly and without difficulty, and come in an attractive, etched metal container. My favorite was the Sugarwalker hybrid. They do not have the fuzzy look à la the ones rolled in kief or hash, but they have a similar impact. They can be purchased online or at Grassroots and Joy Reserve here in San Francisco.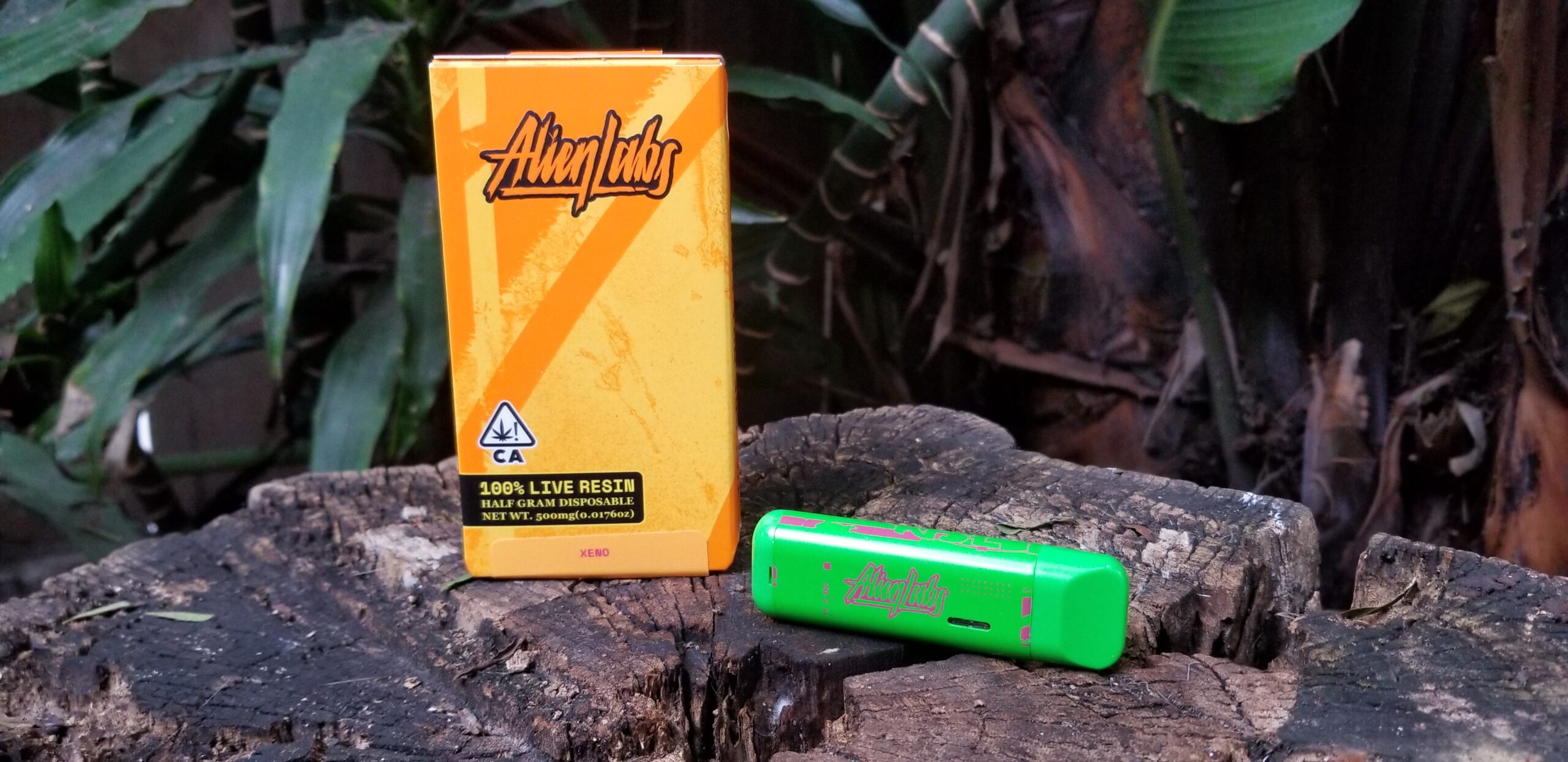 One of my favorite things this year has been my Alien Labs live resin disposable vape pen (retails for around $50). It looks like a cool, New Wave lighter and hits perfect. No one is going to even know you are smoking weed. It is available in many colors, and everyone at my get-together enjoyed passing it around. We love Alien Labs, who also had a couple of my favorite strains this year in Baklava and Gemini. 
I want to express a big Thank You to my stoner party members Birdie Bob Watt, Luca Fazal, and Veronica Guevara for sharing their stoner expertise. 
By the time we smoked all those pre-rolls, we were stoned to a new dimension. We all had goofy, far away grins on our well-moisturized faces as we stared through zonked-out eyes at each other and said, "Dude, I gotta go take a nap." All I could say was, "But there is more!"
Tune in next week for part two of my Cannabis Holiday Gift Guide for more fun ideas!