There is a lot of fear circulating right now over which cryptocurrencies will survive through the next year. As part of this, it's hard to know which blockchain trends will remain in the spotlight in 2022. However, there is one theme that is unlikely to fade any time soon… the metaverse. This new frontier of entertainment and social media is getting the backing of tech giants and venture capitalists alike. And now, lots of crypto networks are pivoting to embrace the metaverse, including Zilliqa (CCC:ZIL-USD). As the Zilliqa crypto makes its big metaverse announcement today, the coin is on the rise.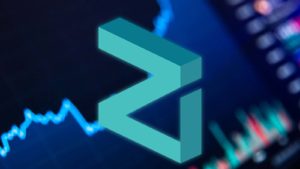 Source: Shutterstock
Everybody wants a piece of the metaverse; with Facebook rebranding itself to Meta Platforms (NASDAQ:FB), the giant company signaled that the metaverse isn't just a fleeting trend. Thus, companies, brands and projects far and wide are getting into the metaverse in one way or another.
Metaverse crypto Sandbox (CCC:SAND-USD) has partnerships with a slew of musicians, media franchises and brands. Crypto exchange KuCoin (CCC:KCS-USD) and auction house Sotheby's have both bought plots of virtual land. Decentraland (CCC:MANA-USD) has even held its very own virtual music festival.
Zilliqa is one of the newest to dive headfirst into the metaverse. As a layer-1 DApp development protocol, Zilliqa promises high efficiency and high transaction scaling on its network. Now, it will have the chance to demonstrate these capabilities by constructing a metaverse.
Metaverse Announcement Boosts the Zilliqa Crypto
An announcement early this week is helping the Zilliqa crypto to beef up its value today. The network has made known its intent to foray into the metaverse. A post on Twitter by the network teased Metapolis, the official metaverse of the platform.
We're making it official. #Metapolis, Zilliqa's highly immersive, customisable extended reality (#XR) #metaverse platform – Coming soon in 2022!

Here's what's in store for Metapolis. https://t.co/gCTmHeZ2OJ pic.twitter.com/dP7twwBYu4

— Zilliqa (@zilliqa) December 20, 2021
In a post detailing the coming metaverse, developers call the project an "extended reality (XR)" experience. They define XR as a combination of both virtual reality (VR) and augmented reality (AR) technologies. The digital city will be constructed of domes which will house brands, games, art, real estate and more. Of course, it uses the same non-fungible token (NFT) avatar model which other metaverse project embrace. Zilliqa rounded out the teaser with a sneak-peak video for investors.
According to developers, the Metapolis will be coming in the next year. In the meantime, ZIL gains are already present. The coin is up 6% so far today, days after the announcement first surfaced. Investors continue to pour into the network as well, with $68 million in ZIL transaction volume representing a slight gain on yesterday's volume.
On the date of publication, Brenden Rearick did not have (either directly or indirectly) any positions in the securities mentioned in this article. The opinions expressed in this article are those of the writer, subject to the InvestorPlace.com Publishing Guidelines.