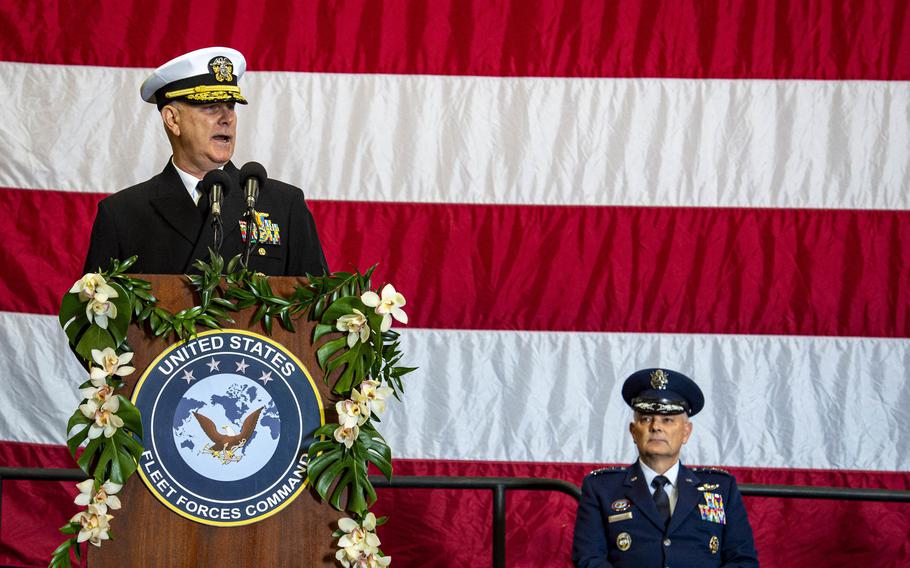 Adm. Christopher Grady, former commander of U.S. Fleet Forces Command, delivers his final remarks at Norfolk, Va., before being relieved by Adm. Daryl Caudle, not shown, during the change of command ceremony aboard USS George H. W. Bush on Dec. 7, 2021. (Brandon Roberson/U.S. Navy)
President Joe Biden's nominee for vice chairman of the Joint Chiefs of Staff wants to get critical new weapons technology into troops' hands faster to better deter growing military powers China and Russia, he told lawmakers on Wednesday.
Adm. Christopher Grady told the Senate Armed Services Committee in a hearing to consider his nomination for the job that the United States should take more risk to speed the development of tech widely considered crucial to success on future battlefields. If confirmed, Grady will become the U.S. military's No. 2 officer, filling a position left vacant when Air Force Gen. John Hyten retired last month after serving in that role for two years.
"If confirmed, it would be my goal to bend the curve and to go even faster to focus on the threat and the risks," Grady told lawmakers. "We have to move as quickly as possible to get the tools to the center of the universe — our warfighters — as fast as possible."
Recent vice chairmen have largely focused their attention on efforts to modernize the U.S. military's weapons and other tools that for decades have provided them major advantages over potential foes. Grady noted recent advances by power competitors China and Russia in military technology that have at least partially lessened the U.S. military's battlefield advantages. Grady said what other top Pentagon officials have said in recent years that the military must invest heavily in new tech — already being adopted by Russia and China, in many cases — including hypersonic and directed energy weapons, artificial intelligence, and space and cyber capabilities.
Grady endorsed ongoing efforts to upgrade all three legs of the U.S. nuclear triad — the aircraft, submarines and intercontinental ballistic missiles that can deliver nuclear warheads. He also encouraged Congress to work to hold the military more accountable for missteps that result in killing civilians around the globe. The admiral also agreed with lawmakers who argued the military classifies too much information, leaving the U.S. population in the dark about much of its efforts. He said the military "should work harder not" to over-classify potentially sensitive information.
But the admiral stressed the United States must ensure it retains its edge of Russia and China, which have been able to move more quickly in developing key technology — including nuclear weapons upgrades — in part because they are willing to take more chances in their testing practices.
"We're risk averse. We need to consider and adopt a strategy that will allow us to … test a little and learn a lot, and if there's a failure there, we can learn from it," Grady said. "One of the reasons given for the speed with which the Chinese have achieved what they have in hypersonics is that they're willing to fail. They're willing to run tests and learn from failure. And we seem to be … risk averse, and therefore much slower in our development process."
Grady said much of the U.S. military's aversion to risk grew out of a period beginning in the 1990s when it faced no true peer competitor capable of challenging U.S. combat power.
"That's not the case now," he said. "We have to learn we have to be able to fail to learn faster. Failure doesn't mean malfeasance or laziness or any of that, but it means iterating and going faster."
The admiral appeared poised for an easy confirmation with little pushback from senators on Wednesday and pledges of support from Democrats and Republicans.
Only one senator, Josh Hawley, R-Mo., indicated he might not support the long-serving Grady, telling the admiral that he was concerned about answers to his questions. Hawley said he was most concerned with Grady's assertion that the 2018 National Defense Strategy — the document forged under President Donald Trump's administration that largely shifted the Pentagon's focus from two decades of counterterrorism to so-called great-power competition with China and Russia — should be revisited by Biden's Pentagon.
"Frankly, I'm disappointed in your answers today," Hawley said, warning the admiral might not receive his vote.
Moments later, Sen. Joe Manchin, D-W.Va., said he would support Grady's nomination.
"I'm sure you're going to be confirmed, sir, without any problems," Manchin said.
Republican Sens. Mike Rounds of South Dakota and Dan Sullivan of Alaska went further, urging their colleagues to confirm Grady as quickly as possible, considering the vice chairman's empty office in the Pentagon.
Grady, 59, testified one day after relinquishing command of U.S. Fleet Forces Command at Naval Station Norfolk, Va., where he worked since 2018 to ensure some 103,000 active-duty sailors, 125 ships and more than 1,000 aircraft were properly prepared to support combat and other operations around the globe.
During his time at Fleet Forces Command, Grady also served as commander of U.S. Navy North and U.S. Naval Forces Strategic Command, which put him in command of Navy forces supporting U.S. Northern Command operations and assigned to U.S. Strategic Command, which controls the U.S. nuclear enterprise.
Before commanding Fleet Forces, Grady served as the commander of the U.S. 6th Fleet, the Naples, Italy-based fleet in charge of Navy forces in Europe and Africa.
He has extensive operational experience, including multiple deployments in support of post-9/11 combat operations in Iraq and Afghanistan. He previously commanded Destroyed Squadron 22 and the Carl Vinson Carrier Strike Group, leading both on sea deployments through the Middle East, according to his Navy biography.

Corey Dickstein
Corey Dickstein covers the military in the U.S. southeast. He joined the Stars and Stripes staff in 2015 and covered the Pentagon for more than five years. He previously covered the military for the Savannah Morning News in Georgia. Dickstein holds a journalism degree from Georgia College & State University and has been recognized with several national and regional awards for his reporting and photography. He is based in Atlanta.