8 hr 6 min ago
Zelensky calls detention of Melitopol mayor a "crime against democracy"
From CNN's Jennifer Hauser
The detention of the mayor of the southeastern Ukrainian city of Melitopol is a "crime against democracy," Ukraine's President Volodymyr Zelensky said Friday in a video posted on Facebook.
Earier Friday, Melitopol mayor Ivan Fedorov was seen on video being led away from a government building in the city by armed men. A short time later, the Russian-backed Luhansk regional prosecutor claimed Fedorov had committed terrorism offenses and was under investigation. 
Fedorov's detention was "a sign of the weakness of the invaders," Zelensky said.
"They did not find any support on our land, although they counted on it. Because for years they've been lying to themselves that people in Ukraine were supposedly waiting for Russia to come. 
"This is Ukraine here. It is Europe here. It is a democratic world here."
Zelensky added that the mayor's detention was "not only against a particular person, not only against a particular community and not only against Ukraine."
"This is a crime against democracy," he said.
Ukraine's Foreign Ministry called the detention of Fedorov a "war crime," saying the Geneva Convention prohibits civilian hostages from being taken.
9 hr 34 min ago
Explosions heard in Kyiv as Russian troops press closer to Ukraine's capital
CNN teams in Kyiv reported hearing explosions in the early hours of Saturday morning, with chief international correspondent Clarissa Ward describing "a nonstop volley … of just heavy booms in the distance," continuing for several minutes.
It's not clear whether the explosions were Russian or Ukrainian strikes, she said.
Fighting is continuing on the outskirts of the Ukrainian capital, with the city's administration saying areas to the north remain the most dangerous, including the suburbs of Bucha, Irpin and Hostomel, as well as the district of Vyshorod further north of Kyiv. Fighting has also escalated in Brovary, across the Dnieper River, east of the city.
As Russian forces press in from several directions, "the worry becomes … that the intention is to fully surround the city, to starve the city, to bombard the city and then ultimately to try to overthrow (Ukrainian President Volodymyr) Zelensky's government," Ward said. 
Kyiv Mayor Vitali Klitschko told CNN the city currently only has resources — including food and medical supplies — for one to two weeks.
CNN's Ward added that "Ukrainian forces are everywhere" in Kyiv. "They have dug up defensive positions along all the main thoroughfares leading into the city, they've put tank traps around. This is a heavily fortified city now. And even if Russian forces are enable to encircle it, it will still be an almighty battle for them to get to the heart of it."
9 hr 55 min ago
Biden warns Russia will pay a "severe price" if it uses chemical weapons in Ukraine
From CNN's Sam Fossum and Betsy Klein
President Joe Biden warned on Friday that Russia will pay a "severe price" if the country uses chemical weapons in Ukraine.
While the US has so far not presented any evidence that Russia plans to use chemical weapons in Ukraine, the White House — most notably, press secretary Jen Psaki — has warned that the weapons could be used in the conflict.
Russia could use chemical weapons in Ukraine or manufacture a "false flag" operation that uses them, Psaki said Wednesday. The press secretary, slamming what she called false claims from Russia that the US is developing chemical weapons in Ukraine, tweeted, "Now that Russia has made these false claims, and China has seemingly endorsed this propaganda, we should all be on the lookout for Russia to possibly use chemical or biological weapons in Ukraine, or to create a false flag operation using them. It's a clear pattern."
She also noted Russia's "long and well-documented track record of using chemical weapons" as well as its pattern of "accusing the West of the very violations that Russia itself is perpetrating."
Read more: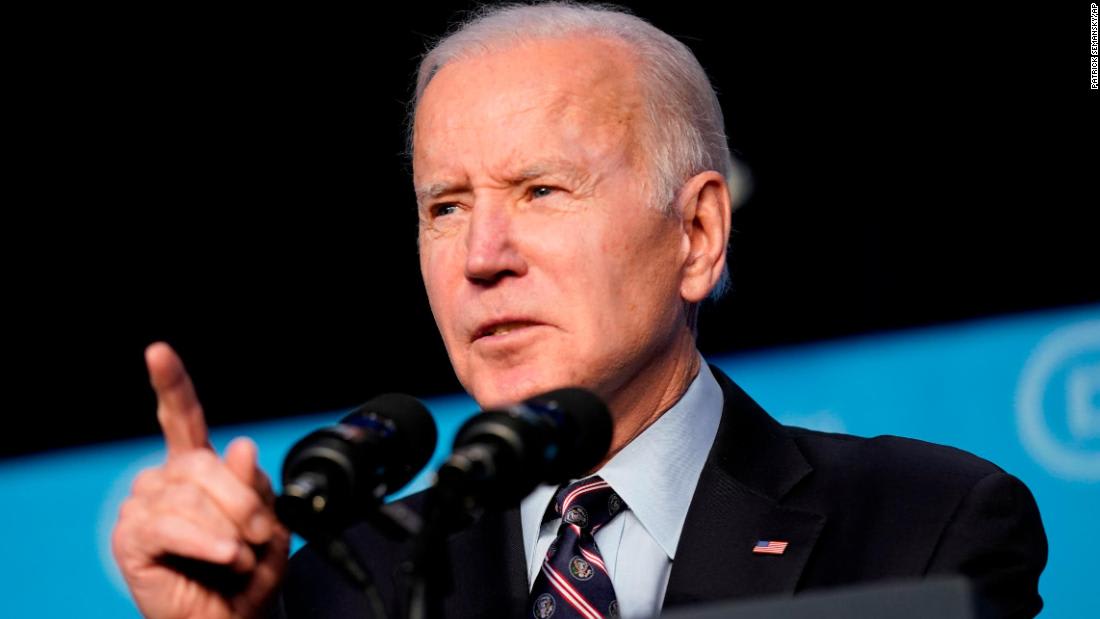 11 hr 28 min ago
Russia widens attack on Ukraine's cities, striking western airfields and Dnipro
From CNN's Tim Lister, Gianluca Mezzofiore, Paul Murphy, Laura Smith-Spark and Rob Picheta
Russian forces launched multiple missile attacks on a wide range of targets across Ukraine in the early hours of Friday, striking airfields in the far west of the country and, for the first time, hitting the central city of Dnipro, to which Ukrainians from other embattled cities have fled.
The airport at Lutsk, some 110 kilometers (70 miles) from the Polish border, was reported to have suffered substantial damage in the attacks. The governor of Volyn region said four missiles had been fired from a Russian bomber and that two people were killed.
Plumes of smoke also rose from the military airfield at Ivano-Frankivsk, about 240 kilometers (150 miles) south of Lutsk. It was previously struck by missiles on the first day of the conflict.
"On the morning of March 11, high-precision long-range weapons attacked Ukraine's military infrastructure. The military airfields in Lutsk and Ivano-Frankovsk were put out of action," the Russian Defense Ministry said Friday.
Three Russian airstrikes also caused serious damage in and around the central city of Dnipro on Friday morning, killing one person, the State Emergency Service of Ukraine said in an official Telegram channel. One strike was near a preschool and an apartment building and another hit a shoe factory, causing a fire, the service said.
Many Ukrainians evacuated in recent days from other cities under Russian fire had been taken to the relative safety of Dnipro.
Read more: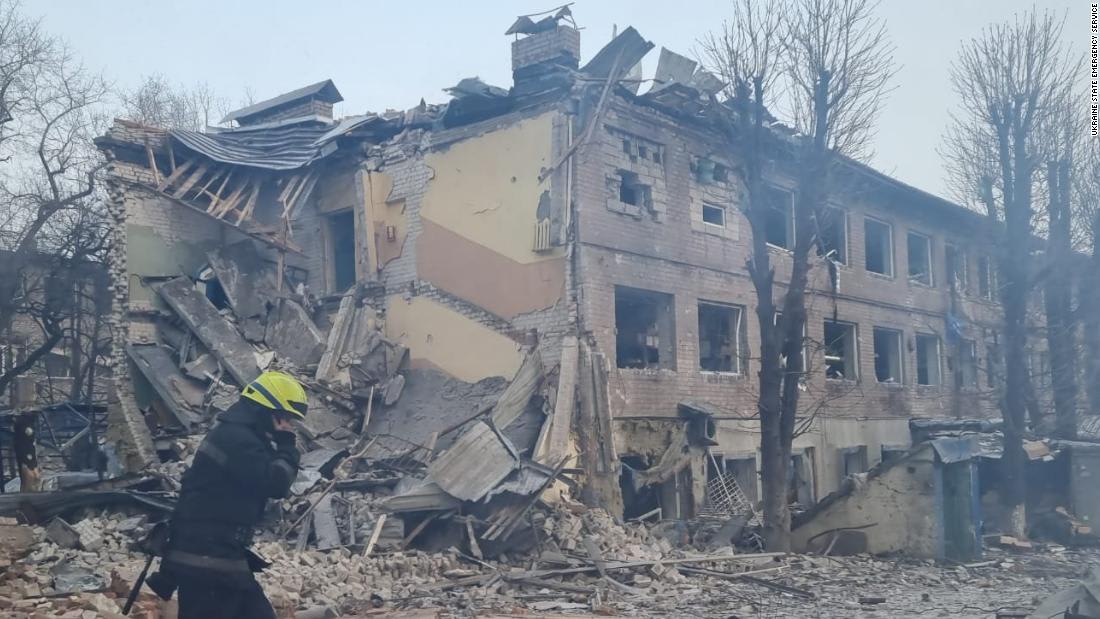 9 hr 30 min ago
Ukrainian Foreign Ministry calls "abduction" of Melitopol mayor a "war crime"
From CNN's Paul P. Murphy
The Ukrainian Foreign Ministry published a strongly-worded statement on Facebook, calling the detention of the mayor of Melitopol by armed men a "war crime."
CNN has previously reported that the Melitopol mayor, Ivan Fedorov, was seen on video being led away from a government building in the city by armed men. A short time later, the Russian-backed Luhansk regional prosecutor claimed Fedorov had committed terrorism offenses and was under investigation.
In a statement posted on Facebook, the Ukrainian Foreign Ministry called Fedorov's detention an "abduction," saying it is one of the many "gross violations of norms and principles of international law, including international humanitarian law, war crimes and crimes against humanity, as well as other human rights violations by the Russian military."
The Foreign Ministry said that the Geneva Convention and its Additional Protocols prohibit civilian hostages like Fedorov from being taken.
"We call on the international community to respond immediately to the abduction of Ivan Fedorov and other civilians, and to increase pressure on Russia to end its barbaric war against the Ukrainian people," the statement said. 
"The fact of the abduction of the Mayor of Melitopol, along with hundreds of other facts of war crimes by Russian occupiers on the Ukrainian soil, are being carefully documented by law enforcement agencies. The perpetrators of this and other crimes will be brought to the strictest responsibility," the post concluded.
7 hr 10 min ago
Evacuation corridors across Ukraine met with limited success on Friday
From Tim Lister in Kyiv, Mariya Knight and Olga Voitovych
Ukrainian authorities reported limited success in securing the evacuation of Ukrainian civilians from the worst affected areas Friday.
Around Kyiv, volunteers and local authorities were able to help thousands more escape the worst affected districts to the north and west of the city.
Despite heavy outgoing and incoming fire, more than 22,000 people had been evacuated after three days from the districts of Vorzel, Hostomel, Bucha and Irpin, all of which have seen extensive destruction and are without power and water, said Oleksiy Kuleba, head of the Kyiv regional administration.
On Saturday, the administration would "be creating new routes to get to the towns which we couldn't reach yet to evacuate people," Kuleba added.
Chief among them is the town of Borodianka — some 25 kilometers (15 miles) northeast of Kyiv. It was again shelled on Friday as Russian forces continue their attempt to close in on the capital from the north.
Meanwhile, an attempt to evacuate more people from the town of Izium had been "disrupted by the Russian occupiers," said Kharkiv Gov. Oleh Synehubov in a Telegram post.
"We prepared 20 buses and humanitarian aid," he said, adding that a "green corridor" was agreed on and organized, but due to the shelling by the occupiers, it was never launched.
The buses were shelled and barely managed to turn round and get back safely. The evidence of shelling could be seen on the buses, he continued.
In the center of Ukraine, authorities reported the successful evacuation of more women and children from Enerhodar — which fell to Russian forces a week ago — and surrounding villages.
Most of the displaced in this region are being brought to Zaporizhzia before boarding trains to western Ukraine.
Mariupol efforts: The head of Zaporizhzhia regional military administration, Oleksandr Starukh, said local priests had joined efforts to get a convoy of aid to the besieged port city of Mariupol.  
Ukraine's Defense Minister Oleksii Reznikov described the situation in Mariupol as very difficult. He accused the Russians of bombing the city even during official negotiations.
Local authorities in Mariupol say that nearly 1,600 people in Mariupol have died as a result of shelling and airstrikes against the city.